Estimated read time: 2-3 minutes
This archived news story is available only for your personal, non-commercial use. Information in the story may be outdated or superseded by additional information. Reading or replaying the story in its archived form does not constitute a republication of the story.
Sandra Yi ReportingThree people on board a commuter plane that crashed yesterday in Missouri were from Utah; two of them were the only survivors.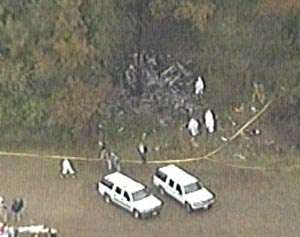 Karen Krogue calls it a miracle her husband is alive.
Karen Krogue: "How he ever made it out of that plane, I don't know."
Her husband, John Krogue, was one of 15 people aboard a commuter plane that crashed yesterday, just south of Kirksville Regional Airport in Missouri. The plane was on its way to Kirksville from St. Louis.
Karen Krogue, Wife of Plane Crash Survivor: "He's an incredibly strong man. He's Superman, but he just pulled himself out and pulled himself away."
Krogue says her husband and his secretary, Wendy Bonham, jumped out of the plane. Bonham reportedly told emergency workers that the plane came apart before it hit the ground.
Their colleage, 39-year old Clark Ator, died in the crash. Ator, a doctor and father of seven children, was the bishop of the Mountainville 1st Ward in Alpine.
McKay Pearson, Friend: "He was truly a wonderful man, a wonderful father, a good neighbor, great husband. The loss will be felt deeply by our neighborhood."
The three were on their way to Kirksville College for a medical conference. Faculty from Florida and Ohio were also on board.
The plane clipped treetops before it crashed in a wooded area. Rescuers found the plane's fuselage in flames and largely intact.
Karen Krogue is planning to head to Missouri.
Karen Krogue: "I'm just grateful that he's ok. I'm just grateful."
And her thoughts remain with all the victims' families.
John Krogue broke his hip and a back bone. Wendy Bonham, who is from Spanish Fork, broke her arm and suffered minor burns. The two are in a Missouri hospital.
The cause of the crash is still under investigation.
×