Estimated read time: 2-3 minutes
This archived news story is available only for your personal, non-commercial use. Information in the story may be outdated or superseded by additional information. Reading or replaying the story in its archived form does not constitute a republication of the story.
Sam Penrod Reporting Controversial filmmaker Michael Moore took on President Bush today in his highly publicized speech at UVSC. And Mr. Moore also had plenty to say to those who fought his appearance in Utah.
Michael Moore was met with cheers and jeers at UVSC. His speech was full of attacks on Republicans, the war in Iraq, and President Bush. And by all accounts, his highly anticipated or dreaded speech, depending on how you look at it, lived up to its expectations.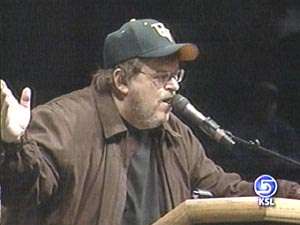 Despite arriving an hour late to UVSC, Michael Moore brought down the house as he took the stage. Moore wasted no time in taking on those who opposed his appearance at UVSC.
Michael Moore: "You don't use our courts to prevent someone from speaking to people who want to hear him speak, who the hell are you?"
Moore offered praise to the student body leaders who booked his appearance and have faced petition drives to recall them from office and even threats.
Michael Moore: "I've never seen students with the kind of guts the students have here, they wouldn't back down. They wouldn't back down; the students at Utah Valley State wouldn't back down."
Moore kept control of his speech and had security guards throw out a man sitting in the third row.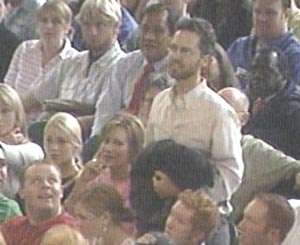 Michael Moore: "This man is threatening me with something under his coat, I want him removed right now."
Michael Moore's surprise guest was comedian Roseanne Barr, who tried to add some political humor.
Roseanne Barr: "Let's face it, President Bush is way more educational oriented than that Kerry dude."
Moore says his so-called Slacker Uprising Tour is meant to get college students to the polls, so he offered ramen noodles to UVSC students who promised they'd vote. In the end, Michael Moore gave the mostly Democratic crowd hope on the eve of the Presidential Election.
Michael Moore: "Only two more weeks of George W. Bush, thank you, thank you, cheers."
And that's the way it was for all of Moore's speech.
Protesters showed up in the hundreds outside the McKay Event Center where Moore spoke today. Both anti-Moore and anti-Bush protestors lined the street just outside the event center in a roped of section.
Those who oppose Bush made up the majority of the protesters, chanting songs and passing out stickers and signs. Most of the protesters were holding up anti-war signs, but both sides used Moore's speech as an opportunity to speak their minds.
Steven Dunn, UVSC Student: "I think it's important for people here in Utah Valley to realize that there are people who oppose the war and President Bush's policies."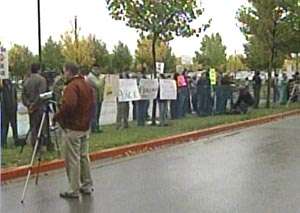 Justin Casey, Anti-Moore: "My sign says Michael Moron is a liar and he is, he twists the truth and contorts it to what he wants to say. And I think it's wrong." There were over 30 uniformed officers keeping a close eye on the crowd, and the protest remained peaceful.
×