Estimated read time: 2-3 minutes
This archived news story is available only for your personal, non-commercial use. Information in the story may be outdated or superseded by additional information. Reading or replaying the story in its archived form does not constitute a republication of the story.
John Hollenhorst ReportingFor the first time since Lake Powell filled up its major facilities are being shut down for the winter. Plans have been announced to close all of the lake's lodges and restaurants, but not its boating facilities, on November 15th.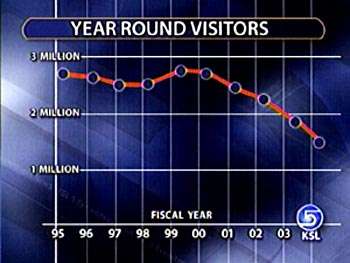 Lake Powell has been battered by the drought, and that certainly played a role. But the lake has also taken a hit from international economic forces, and even from terrorism.
Lake Powell's level is plummeting, thanks to the drought. And visitation is dropping fast too. It's partly a regional phenomenon affecting other torurist meccas such as the Grand Canyon -- fewer foreign visitors due to unfavorable exchange rates and a softening of the economy.
The ten-year trend at Lake Powell shows well over three million visitors a year, until a steep decline began four years ago. The trend is even steeper in the off-months, November through March, plummeting well below 200,000 off-season visitors.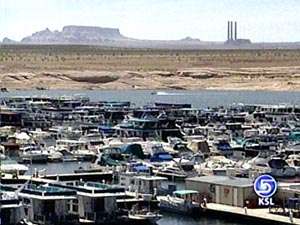 A spokesman says it's no longer feasible to keep restaurants and lodges open in the off-season at Wahweap and Bullfrog.
Steve Ward, Lake Powell Resorts & Marinas Spokesman: "By the summer of 2001 we were already in a serious decline. And then 2001 and 9-11 brought it down even farther. Fuel prices this past year, and yes of course, the fact that the water is down 100 feet, more than 100 feet, has further eroded our visitation level."
The good news is, most winter visitors will be unaffected. Boating services and fuel docks and stores will remain open, at least on a limited basis. And some rental units will be available at Bullfrog.
There's one more point of good news for lovers of Lake Powell. The U.S. Board on Geographic Names decided unanimously today NOT to rename the lake. Environmentalists petitioned to change the name to "Glen Canyon Reservoir". Many boaters fear a political agenda.
Todd Savage, Page, Ariz.: "I do because history has proven that it's easier to drain a reservoir than it is a lake."
Monty Fisher, Bailey, Colo: "Aaaaah, why change it? It's been Lake Powell for 40 year now. Why change now?"
The Board of Geographic Names today voted 10-to-1 against the name change. The board received more public comment opposing the new name than it's had on any issue in history.
It may be a little smaller than it used to be, but it's still "Lake Powell".
×