Estimated read time: 2-3 minutes
This archived news story is available only for your personal, non-commercial use. Information in the story may be outdated or superseded by additional information. Reading or replaying the story in its archived form does not constitute a republication of the story.
John Daley ReportingSteady rain across Utah for 24 hours and the results aren't pretty--flooding in places, especially in the south, and would you believe deep snow in the mountains?
Stormy weather and snow in the high mountains, rising reservoirs and rivers, and flooding in places, especially around St. George.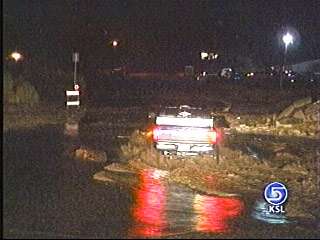 In Washington County they're seeing the kind of flooding they haven't seen in a long time. Public safety officials say they haven't seen anything like it in years.
Case in point, the Virgin River--in normal conditions it runs roughly six inches deep and 10 feet wide. But after four days of rain the Virgin is running high in some areas--twelve feet above normal, and elsewhere the AP reports it is 25 to 30 feet higher than normal.
In the St. George area the Virgin is within a few feet of a subdivision where they are sandbagging and hoping for the best.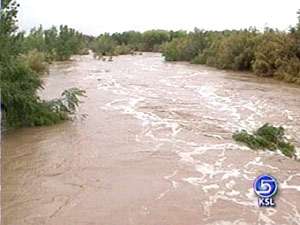 Roger Barker, Washington City Fire Dept.: "This morning we've been sandbagging to protect the homes. The water is about two feet lower than the homes; that is all."
Catherine Forster, Washington City Resident: "I've been pretty worried. We just moved up here two weeks ago. I called in sick today to say I wasn't coming in. I stayed home to move things up to the top floor."
Just north of St. George the Baker Reservoir filled up over night as water escaped over the spillways. In the town of Washington flooding took out an old bridge. Elsewhere cows and deer were stranded by the swollen river.
Not to be outdone, the mountains are boasting deep snow. With ski season less than a month away now Brian Head was swimming in it, deep snow and very wintry conditions with a cold shot of 40 inches of forty inches of fresh, wet snow.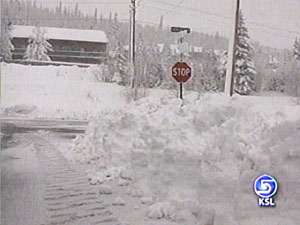 With these kinds of conditions in Southern Utah, flash flooding is always a big concern. The National Weather Service has issued a flash flood warning for south-central Garfield and eastern Kane counties with potential trouble near the Paria and Escalante rivers.
×