Estimated read time: 2-3 minutes
This archived news story is available only for your personal, non-commercial use. Information in the story may be outdated or superseded by additional information. Reading or replaying the story in its archived form does not constitute a republication of the story.
Tonya Papanikolas ReportingA driver survives a potentially deadly crash with a TRAX train on 5th South and 11th East this morning. Police and transportation officials say that driver made a bad judgment call.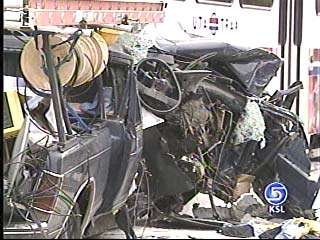 Police say the driver tried to turn left as the TRAX train was approaching. He may not have seen the train, but left turns are not allowed at that intersection. Those who saw the accident say they are amazed the driver is okay. He was taken to University Hospital; we're told he's in fair condition.
Kara Hill, TRAX Passenger: "We started coming to a screeching halt and everyone just started bracing the walls and bracing each other."
Dozens of TRAX passengers on the University line made an unexpected stop today after the train collided with a small blue truck, dragging the vehicle past the intersection and pinning it against a pole.
Tyler Peterson, TRAX Passenger: "Felt a big bump and kind of felt like the train was off the tracks."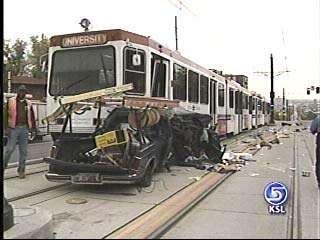 Kara Hill: "We thought the train had derailed and it felt like we were just burning cement and big smoke started coming through, and lots of jolting."
The front end of the truck was completely smashed, wires and frames sticking onto the street and only the steering wheel recognizable. But somehow the driver survived.
Lt. Arthur D. Healey, Salt Lake Police Department: "Just looking at the vehicle, I can't see how he got out of it alive."
Tyler Peterson: "h was bleeding on his head, he was moving around, so he was conscious. They just took him out on a stretcher."
Tis is the third TRAX accident in just the last two days. Yesterday a car got under the wheels of a TRAX train at 4th East and 4th South. The driver was making an illegal U-turn when it was hit.
Justin Jones, UTA Spokesman: "I'm not sure if it's the weather or what it is, but people are not being as cautious as they need to be around the trains. It's a good reminder for people to really follow the signals."
Lt Arthur D. Healey: "These trains are silent, they're heavy, they don't slow down; you cannot get in their way."
Another accident happened as people slowed down to look at the scene, but no one was badly hurt. Officers did end up shutting down part of 5th South for a while. UTA quickly brought in buses to get the TRAX passengers to the stadium station.
×