Estimated read time: 2-3 minutes
This archived news story is available only for your personal, non-commercial use. Information in the story may be outdated or superseded by additional information. Reading or replaying the story in its archived form does not constitute a republication of the story.
Amanda Butterfield ReportingA Bountiful teenager hit the big time last week -- an on-camera moment in the top-rated reality series, The Apprentice. It was just one stop on the fast track for the girl, who works for The Trump Modeling agency. Amanda Butterfield introduces you to 15-year-old Madison Slagowski.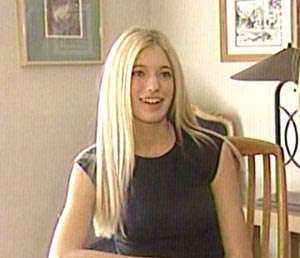 Madison Slagowski, Apprentince Model: "I was nervous walking out there, but once I was there I wasn't nervous, cause nerves kind of motivate me."
Back in Bountiful Madison is hoping to muster up some of that motivation for her math homework, and after that it's biology. But with the help of her friend Shelly, she doesn't mind.
A Sophomore at Bountiful High school, Madison signed with Trump Model Agency last Spring, and spent the summer in New York posing for the camera.
Madison Slagowski, Trump Model: "It's like you totally transform from who you normally are, to someone they're trying to picture you as."
Madison has wanted to be a model since she could walk. And at 5'10", size 2-4 she's a natural, hardly putting any effort into it.
Madison Slagowski, Trump Model: "I'm not drinking pop right now, but other then that I'm really really bad eater. I should eat way more healthy then I am. I'm just lucky I have a fast metabolism."
Also lucky for her, she seems to be on the fast track to making it big. This summer she's headed back to New York to model, or perhaps Paris or Japan. She says she's going with the flow right now, but hopes to get into one particular magazine.
Madison Slagowski: "Well Vogue, obviously, that's everyone's goal."
And through it all, remembering she's gotta get her homework done.
Madison Slagowski, Trump Model: "I can't do this forever, obviously, it has a limit. And most people retire when they're 24, and I can't just not do anything the rest of my life. So I want an education so I can have a career."
A pediatrician she thinks, that's if she keeps her math and biology grades up.
Since returning this summer, Madison has had to turn down some modeling jobs because of school, but this February she'll head back to New York for three weeks to walk the runway again for Trump Modeling Agency.
×