Estimated read time: 1-2 minutes
This archived news story is available only for your personal, non-commercial use. Information in the story may be outdated or superseded by additional information. Reading or replaying the story in its archived form does not constitute a republication of the story.
Sam Penrod reporting Thousands of Utahns are heading to the hills tonight, getting ready for the opening of the deer hunt.
But what will the hunters find?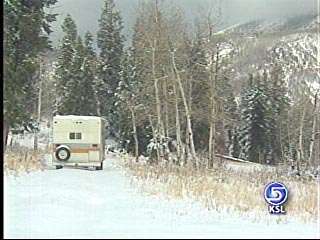 Of course, the hunters are hoping to find the deer, but they can all count on finding a lot of mud. The storms from this week have affected the entire state, and at the higher elevations there's nearly two feet of snow in some places.
Many hunters had already set up camp before the storm, and are finding their trailers are deep in snow.
But some hunters like the cooler weather for the hunt and the fresh snow can making tracking the deer a lot easier.
Deer numbers are supposed to be up this year, so that means more hunters should get their buck.
A total of 70 thousand deer tags were sold this year and all of them sold out.
And because of the weather, search and rescue teams are reminding all hunters to tell someone where they are going and when they will be back.
Also, because it is cold, hunters should be cautious when using space heaters because of the danger of carbon monoxide
The hunt officially opens tomorrow morning, but many hunters are camping out despite the weather and we'll have a live report from deer camp, tonight at ten.
×