Estimated read time: 2-3 minutes
This archived news story is available only for your personal, non-commercial use. Information in the story may be outdated or superseded by additional information. Reading or replaying the story in its archived form does not constitute a republication of the story.
Sammy Linebaugh ReportingOne week from today Americans will be heading to the voting booth. Here in Utah high profile races are expected to generate higher than usual turnout statewide. But what about "Generation Y"?--the voting block of 18 to 24-year olds?
Francisca Blanch has knocked on more than 500 doors in the last three weeks. The message?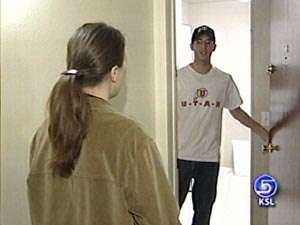 Francisca Blanch: "We are trying to register students and young people to vote."
Born and raised in Romania, the U of U political science student is not yet a US citizen, so she can't vote herself. But she's one of dozens of volunteers statewide blanketing student housing complexes and apartments in an effort to capture the 18 to 24 crowd.
Freedom of choice, she says, is something she'll never take for granted.
Francisca Blanch, VoteProject Volunteer: "I grew up in the communist dictatorship. And I remember when voting was mandatory. I remember when people were coming to my parents door and asking them why they don't vote and making them go vote."
Tyler Allen, VoteProject Founder: "It's amazing. She can't even vote but she realizes the importance of it."
Tyler Allen founded VoteProject, a statewide effort to educate high school and college students on everything from how to vote to the candidates and campaigns that affect them.
Tyler Allen: "If you go on our web site and you put your address in with the zip code, you can find out what district you're in, who's running your district. I really think this is going to be the biggest turnout of young people in the history of voting for young people."
On the U campus, the numbers are impressive. More than 80 percent or eligible students are registered to vote. The trick now is getting them to the voting booth on November 2nd.
Bryson Morgan, U of U VoteProject Director: "We're going to be having some calling banks Thursday night and Monday night, calling U of U students, getting them out to the polls."
Spreading the word, one person one at time.
Francisca Blanch: "This is democracy in action. This is what it should be."
Francisca says the only thing holding her back from getting her US citizenship so she can vote is the application fee, about $300 dollars.
×
Most recent Utah stories