Estimated read time: 2-3 minutes
This archived news story is available only for your personal, non-commercial use. Information in the story may be outdated or superseded by additional information. Reading or replaying the story in its archived form does not constitute a republication of the story.
Sandra Yi ReportingA man wanted by Adult Probation and Parole is back behind bars, but only after he led police on a high speed chase last night.
The chase started near Stansbury Park and ended in Tooele City. The entire incident would last two hours as the suspect did all he could to get away.
The chase reached dangerous speeds, on city and county streets. Behind the wheel was 24-year old Dusty Allie. Police say, he was desperate to get away. A flat tire didn't even slow him down.
Lt. Lynn Bush, Tooele County Sheriff's Office: "He took off up the road at speeds of 90 to 95 miles an hour."
The chase started last night near Stansbury Park when a deputy stopped to help Allie, who had a flat tire. Turns out Allie was a wanted man.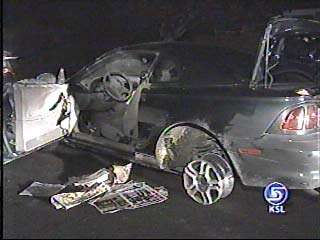 Lt. Lynn Bush: "Subject made a move between the seats, told him he had a weapon."
Allie didn't give in, but instead led police on a chase that lasted 10 miles. He didn't stop, even after officers spiked his tires.
Lt. Lynn Bush: "Now he has two flat tires. One on the front and one on the rear."
Allie's car appeared to give in and rolled to a stop in a Tooele neighborhood. That's when the chase turned into a standoff.
Lt. Lynn Bush: "During that time, he made several threats and was making moves as if he had a weapon."
Negotiations with police, even Allie's parents, didn't help. It took pepper balls and a tazer to finally get Allie safely into custody.
Lt. Lynn Bush: "We're really lucky no one was hurt. It could have been ugly."
Dusty Allie did not have a weapon, but police say he was under the influence. They found meth and drug paraphernalia in his car. They also found a stolen debit card.
He's being held in the Tooele County Jail without bail.
×