Estimated read time: 2-3 minutes
This archived news story is available only for your personal, non-commercial use. Information in the story may be outdated or superseded by additional information. Reading or replaying the story in its archived form does not constitute a republication of the story.
Keith McCord ReportingA KSL viewer sent us an e-mail this week that reads, "Our family has been discussing Halloween and which night it will be, Saturday night or Sunday night. Could you please find out and do a story on it, and let us know?"
Well it's not simple. It's sort of like asking someone who's going to win the election: Bush or Kerry? That will result in a spirited discussion for sure. The same is true for Saturday or Sunday for Trick or Treating.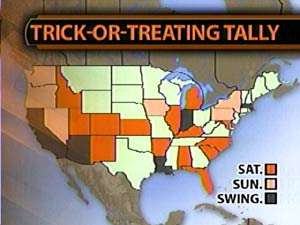 Little kids love Halloween! Free candy that mom and dad will let you collect by the bag full; costumes that take weeks of planning; jack-o-lanterns and orange lights-- all to celebrate an event that's been observed in various ways for centuries. But when Halloween falls on a Sunday, it creates quite a stir among goblins and everyone else.
Since there's no official Halloween Board of Directors to declare which day it'll be on, we're left to decide on our own. Many cities ask the police for advice, and in Salt Lake City?
Det. Dwayne Baird, Salt Lake City Police Dept.: "Well, from a police point of view, it will probably be a Saturday night."
On the internet, we searched about half of the states, and though this is very unscientific, it appears most will join Utah and do Halloween on Saturday. Religious issues and the fact that the 31st falls on a "school night" are reasons that people will participate in Halloween activities on Saturday.
States that plan to stay true to the calendar and go on Sunday include Nevada where it's a dual celebration, Halloween and Statehood Day. And, as with the presidential map, we have a few "swing" states where trick-or-treaters will be out both nights; Louisiana expects kids to even ring doorbells on Friday night too!
Here in Utah, shopping malls plan activities for the kids; Provo and Pleasant Grove will have trick or treating in their historic downtown areas on Saturday. The zoo and aviary also have activities planned.
We have a poll going on our website asking which day. It's overwhelming with 80 percent saying Saturday. But you might also want to have enough candy for Sunday, just in case.
We might also suggest using the Porch light signal -- if you're handing out candy, leave the light on; if not, turn if off. By the way, no confusion next year, Halloween is on Monday.
×
Most recent Utah stories