Estimated read time: 2-3 minutes
This archived news story is available only for your personal, non-commercial use. Information in the story may be outdated or superseded by additional information. Reading or replaying the story in its archived form does not constitute a republication of the story.
Sam Penrod reportingA group of deer hunters escaped the mountains just in time today. But spending six days stranded in the snow has been frustrating.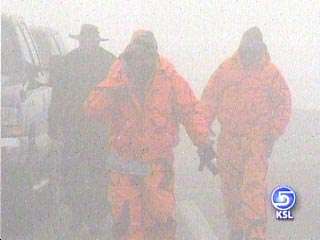 They got hit with a big snowstorm last Thursday night and couldn't get their trucks and trailers out.
Search and rescue offered to get them out, but not their vehicles.
They held their ground, until today, when they got permission to plow their way out.
A front end loader helped to save the day for six people who have been stranded in the mountains of Wasatch County since last Thursday.
Mike Shutt, Stranded: "Got camp set up, storm started to hit and just didn't let up."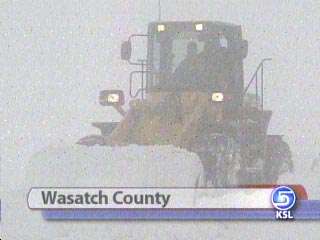 With plenty of food and fuel, their situation wasn't an emergency, but the snow kept falling.
Mike Shutt: "Well we had three trailers, a little maze, of pathways that we kept shoveling from one trailer to another and the snow about this deep."
Using his OnStar truck phone, Mike Shett called authorities who offered to bring snowmobiles in to get them out, but told them they'd have to leave their vehicles all winter.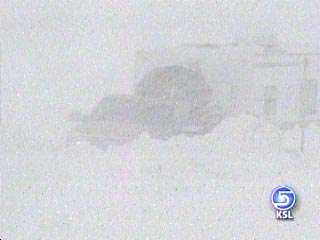 Mike Shutt: "They just want you to leave it there and get the heck out of there, you know you come back next spring you won't have nothing left we didn't want to take that for an answer."
So Shett and relatives organized getting their own tractor to dig them out, but say it wasn't easy to get permission.
The hunters blame bureacratic red tape for keeping them stranded in the mountains in a blizzard for nearly a week.
Jay Childs Family Member: "It's just been one red tape thing after another with the forest service."
But the forest service says it isn't equipped to rescue people or property off the forest.
But rangers inisist since they learned of this dilemma Monday morning, they've expedited issuing the permit that addresses liability concerns and potential damage to the environment with private citizens operating heavy machinery.
Julie King,Forest Service Ranger: "The forest service is concerned about the situation up there and I am dealing with them on a case by case basis, to do the best we can."
×
Most recent Utah stories