Estimated read time: Less than a minute
This archived news story is available only for your personal, non-commercial use. Information in the story may be outdated or superseded by additional information. Reading or replaying the story in its archived form does not constitute a republication of the story.
(KSL News) -- Vandals in Bountiful are using pumpkins to damage parked cars and mailboxes.
Police say 11 cars in the southeast area of the city were hit after dark on Friday. The culprits launched pumpkins into the windshields, causing a total of $3,000 in damages.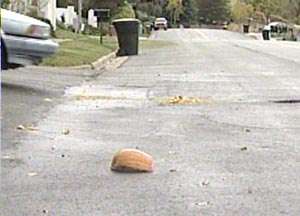 There have been several other incidents this week and police anticipate more.
Lt. Randy Pickett, Bountiful Police Dept.: "We actually see a bigger increase after Halloween when people start getting rid of the pumpkins. Kids just grab them and start throwing them out."
Police believe different groups of teenagers are responsible.
There will be more officers on patrol during the graveyard shift to try and deter such vandalisms. They say, if possible, park your car in a driveway or garage.
×