Estimated read time: 2-3 minutes
This archived news story is available only for your personal, non-commercial use. Information in the story may be outdated or superseded by additional information. Reading or replaying the story in its archived form does not constitute a republication of the story.
Tonya Papanikolas ReportingSome Utah companies have joined forces to better protect our water system. Tonya Papanikolas tells us what they're doing to prevent bio-terrorism.
We depend on our water supply for drinking water and we count on it being clean and useable. What we don't count on is a bio-terrorist attack that affects our water. Here in Utah a few companies are coming together to prevent bio-terrorism. They have a three-step plan: identify, notify authorities, and purify the water.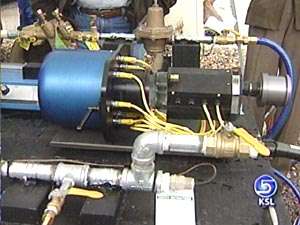 When going for a glass of water, we don't usually think about terrorism. But in this day and age, our water supply could be a target. So Utah researchers have developed technology that can detect dangerous microorganisms in the water.
Christopher Lloyd, MicroBiosystems Researcher: "We've been able to detect bacteria spores, viruses and toxins with this detection instrumentation. So most of the bio-terrorism agents like anthrax or plague, we've seen.
Today the developers tested the technology by taking some South Davis well water and pumping bacteria into an isolated section.
Christopher Lloyd: "It's a bacteria that will usually kill mosquitoes and other insects."
As soon as the bacteria started running through the tubes it was detected. The technology sent a wireless signal to a computer.
Christopher Lloyd: "Traditional water detection methodologies usually take between 36-48 hours to run. In real-time monitoring, you're able to detect it immediately and you'll be able to shut off wells or re-divert water."
Jaya Raman, WaterWorks Vice President: "Normally it will say that all is clear, everything is working fine. When something is detected, there will be a red alert."
Whoever's monitoring the system will notice water content levels changing, like we saw. And they can determine what organism is causing the change.
Once the proper authorities are alerted, the next step is getting rid of the problem. For that, a company called Econova brings in their mobile purification unit.
Les Merrill, Econova Vice President: "We would hook the water directly into the system from the contaminated source and within five minutes, through the system, we could create the potable water."
These companies have already received some funding from the Health Department here. They're meeting with the EPA next week. They say they would like to have the system in place in the next six months, all around the country.
×