Estimated read time: 2-3 minutes
This archived news story is available only for your personal, non-commercial use. Information in the story may be outdated or superseded by additional information. Reading or replaying the story in its archived form does not constitute a republication of the story.
Ed Yeates ReportingAndrea Graham considers herself a rational, reasonable person. But what happened at the Chapman Library chilled her to the bones. Yet she was never really frightened. What happened?
In what was supposed to be another routine day, librarian Andrea Graham unlocked the doors at the Chapman Library, switching on lights and computers. Built in 1918 as one of the original Carnegie Libraries, Salt Lake City's Chapman Branch is filled with history -- and apparently a lot more!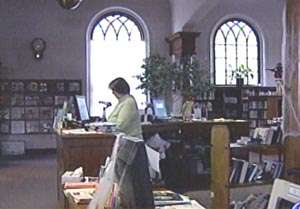 Andrea climbed the stairs in this classic old building, as she does everyday, into a room where her ghost story is told, and many others as well.
Amidst the dark woods and books, Andrea was about to have her first experience of a so-called "haunting."
Andrea Graham, Librarian, Chapman Library: "I had kind of a sensation, like you might when you think somebody is watching you. And so I turned just briefly, looked in that direction and saw a kind of a form, but not really a body."
As quickly as she turned, what she saw or thought she saw disappeared. But that wasn't all.
Andrea Graham: "Over in that window we have some puppets. One of the puppets, a little red dragon, came flying and it landed in the center of those chairs."
The puppets, created by artist Mary Anne Heider, are her renditions of eccentric characters who are born of strange journeys, fantasies and nightmares.
Graham: "In fact, I feel goose bumps every time I talk about it."
Andrea is not the first there to feel goose bumps. Others before her time have had similar experiences. Tales - real or not? Doesn't matter. It's stories like Andrea's that give the old building so much personality.
Graham: "To me it's almost comforting. It adds to this building. It's a wonderful building."
×