Estimated read time: 2-3 minutes
This archived news story is available only for your personal, non-commercial use. Information in the story may be outdated or superseded by additional information. Reading or replaying the story in its archived form does not constitute a republication of the story.
Keith McCord ReportingWhen you walk into Guy and Karen Howe's place in Herriman, you'll notice something different. In their dining room are two horses -- momma and baby! The little guy is running and kicking now, but three nights ago was a different story.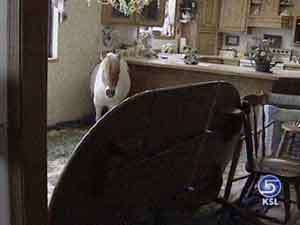 Karen Howe: "It was just laying there with no life in it, and so we kept rubbing it, trying to stimulate it."
Guy Howe: "I mean it was, uh, it was a give and take. I slept right there on the couch and I was monitoring him every single hour, every minute."
The Howe's have their own business breeding, selling and showing miniature horses. When this colt was born in their barn Monday night he developed hypothermia, barely a pulse; the thermometer didn't even register a temperature.
Karen: "So we doctored him all night long, just getting the fluids in him and the next day is when we decided that we were going to turn our house into a barn."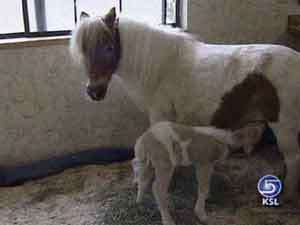 So the Howe's dismantled the dining room set, spread a tarp on the carpet, shoveled in some sawdust and hay, and created a make-shift horse pen. The Howe's kids think this is all pretty neat; but Karen Howe, an admitted city-slicker, says this was a big step for her.
Karen: "I don't like to walk in people's homes and smell, 'oh geez, they have a dog, oh geez, they have a cat.' So now I got horses instead. So that's why we brought the sawdust in, for the pine smell."
The colt is coming along fine. But with cold, wet weather still in the forecast, the Howe's decided that he should stay indoors for a few more days. And that means, mom gets to stay in the dining room too.
As you might expect, the Howe's came up with a clever name: he's called "Wy Defy The Odds", because he certainly did.
The Howe's say they don't usually have horses born during the winter months. They say this one was an "accident". (wink, wink)
×