Estimated read time: 4-5 minutes
This archived news story is available only for your personal, non-commercial use. Information in the story may be outdated or superseded by additional information. Reading or replaying the story in its archived form does not constitute a republication of the story.
SALT LAKE CITY (AP/KSL News) – Election day is finally here, and people are waiting in lines across the state to cast their ballot.
With voter turnout expected to reach 78 percent, there may be some long lines today. Nearly 4 out of 5 registered voters in Utah are expected to cast ballots today.
At Lynn M. Bennion Elementary School, a line formed before the polls were even opened.
Voters lined up to cast their vote as early as 6:30 this morning, anxious to get their hands on a ballot.
Teddy Velard/Utah Voter: "I feel as a citizen I do that, and I come in early and get it done before I come into work "
Utah traditionally swims in red on Election Day, the state's outline on national maps marked solidly for the GOP as pundits tally the Electoral College count for president.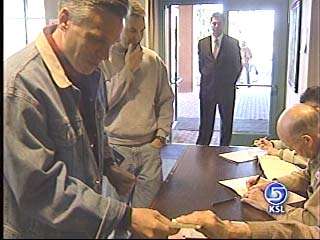 President Bush's capture of the state's five electoral votes was a foregone conclusion Tuesday, as were a smattering of other races in which Republicans were considered locks: incumbents U.S. Sen. Bob Bennett, Rep. Rob Bishop in the 1st District and Rep. Chris Cannon in the 3rd district.
But that didn't mean Democrats, often considered an afterthought in a state so dominated by conservative politics and religious culture, were laying down.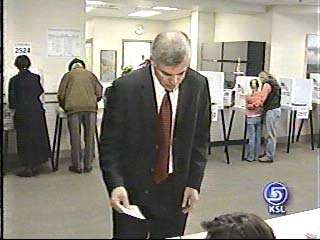 In the race for governor, University of Utah law school dean Scott Matheson Jr., the son of Utah's last Democratic governor, hoped for an upset over heavily favored Republican Jon Huntsman Jr., heir to his father's chemical fortune.
It's the first governor's race since 1992 that doesn't feature Mike Leavitt, who left the job in 2003 to take over the federal Environmental Protection Agency. Leavitt was succeeded by then-Lt. Gov. Olene Walker, who sought re-election but was defeated in her party's primary.
A win by Matheson would amount to a family hat trick: Matheson's father was a popular two-term governor, and his brother Jim is Utah's only Democratic congressman.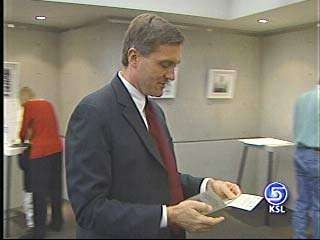 That other Matheson is working feverishly to avoid another white-knuckle finish in his rematch against Republican John Swallow, whom he beat in 2002 by less than one percent of the vote.
Democrats were also poised to snatch a surprise win in Salt Lake County, where Peter Corroon held a slight edge in his bid to replace outgoing mayor Nancy Workman. Workman, dogged by two felony charges of misusing public funds, dropped out of the race and cleared the way for Republican Ellis Ivory, a wealthy Salt Lake valley developer, to replace her on the ballot.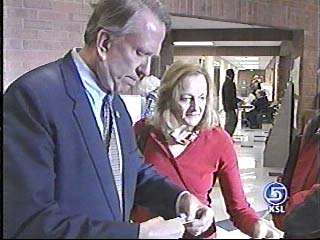 Independent Merrill Cook and Republican candidate Ellis Ivory were early to fill out a ballot
Ellis Ivory, (R) Candidate for Salt Lake County Mayor: "It's wonderful to be able to come and cast your vote."
And though Democrat Peter Corroon had already voted, he came with his wife.
Peter Corroon, (D) Candidate for Salt Lake County Mayor: "I think it's important number one that everyone gets out and votes."
Among other statewide and local legislative races, voters were deciding the fate of incumbent Attorney General Mark Shurtleff, who's favored to beat defense attorney Greg Skordas.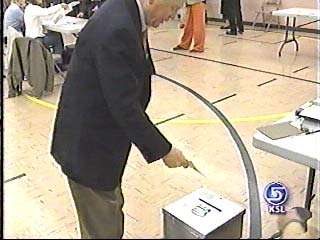 Voters also weighed in on perhaps this season's most emotional issue, the proposed constitutional amendment to outlaw gay marriage.
There's broad support among Utahns for such an amendment, but the second part of the proposal has made opponents of some who'd typically support it -- including Attorney General Shurtleff. The part in question makes it illegal to recognize any other domestic union, however denominated, as a marriage or given the same or substantially equivalent effect.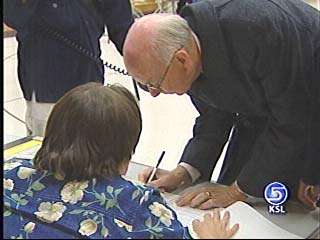 Opponents argue that sentence could endanger Utah's common law marriage statute and violate the rights of unmarried heterosexual couples. They say the amendment makes it impossible for a couple to visit each other in the hospital, throws into question automatic inheritance benefits and invalidates health insurance benefits.
Other questions on Tuesday's ballot:
--Open space: An unusual coalition of environmentalists and business interests were backing a $150 million bond issue, known as Initiative 1, that would preserve open space, promote clean water and air, build parks and construct government buildings with an increase in the sales tax of one-twentieth of a cent. But the issue has its opponents, including the Utah Farm Bureau and outgoing Gov. Olene Walker, who say the bond issue has too much pork.
--University inventions: If passed, Amendment 2 would allow colleges and universities to invest in companies whose products are developed based on the inventing school's intellectual property.
--Impeachment: Passage of Amendment 1 would allow Utah's House and Senate to convene a special session for impeachment proceedings.
--State treasurer and auditor: Utah Treasurer Ed Alter and Auditor Auston Johnson, both Republicans, were expected to coast to re-election.
All issues are keeping the voting lines steady through-out the state.
Nicholus Chugg, Utah Voter: "This has been volatile election year, and I'm just excited to get out and express my opinion."
And you've got until 8 o'clock tonight to do it.
(Copyright 2004 by The Associated Press. All Rights Reserved.)
×