Estimated read time: 1-2 minutes
This archived news story is available only for your personal, non-commercial use. Information in the story may be outdated or superseded by additional information. Reading or replaying the story in its archived form does not constitute a republication of the story.
Sandra Yi ReportingState Election officials are prepared for any security problems. Police today are on alert and patrolling the polls.
Police want voters to feel safe and at ease as they cast their votes today. Security is obviously tighter at the Salt Lake County Government Center, where the county clerk's office is located. There are more people coming in and out today, so as a precaution, everyone has to go through a metal detector and deputies are checking bags.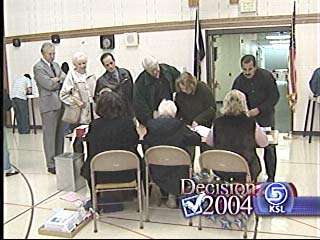 Back at the polls police are conducting random patrols, but you may not even notice the police presence, as officers are keeping close watch outside. Salt Lake City Police, for example, are rotating among the city's 85 polling places. So far, officers have only come across parking problems. They're on alert for other election-related disturbances, but they say they have no indication of terrorist threats.
Dwayne Baird, Salt Lake City Police Dept.: "We have not received any information or intelligence that we would have that, but we're looking for anything that would be out of the ordinary that voters or polling judges would be concerned about, so that we can maintain a high level of security at those areas."
Four years ago a bomb threat forced the evacuation of the building, shutting the polls down for a while. Elections officials and police hope there won't be any of those disturbances today.
×
Most recent Utah stories