Estimated read time: 1-2 minutes
This archived news story is available only for your personal, non-commercial use. Information in the story may be outdated or superseded by additional information. Reading or replaying the story in its archived form does not constitute a republication of the story.
Richard Piatt ReportingThe candidates, the issues, the political climate and concerns for the future have brought tens of thousands of Utahns to the polls today. Across the state voters are showing up in record numbers. Turnout at 3 p.m. was at 36 percent. If it continues, this could be the largest turnout in years.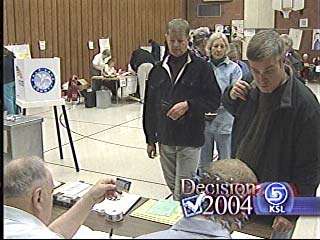 Voters lined up early. People were waiting as early as 6:30 this morning to get their hands on a ballot.
Teddy Velard, Utah Voter: "I feel as a citizen I do that and I come in early and get it done before I come into work."
Inside, volunteer election judges braced for the crowds. Lines started at 7 a.m. sharp, and heavy traffic continued through most of the day. According to Salt Lake County Clerk Sherrie Swensen, most precincts reported the heaviest turnout in recent memory.
Sherrie Swensen, Salt Lake County Clerk: "It is extremely large. As a matter of fact we did a sampling of 43 precincts at 10 o'clock and they reported a 24 percent turnout, which is amazing."
If it stays that high, Swensen says, turnout could be as high as 85 percent by the end of the day.
Emotional, hard-fought, tough issues are apparently moving people to action in a big way this year.
Nicholus Chugg, Voter: "This has been volatile election year, and I'm just excited to get out and express my opinion."
And you've got until 8 o'clock tonight to do it.
The thing to keep in mind about heavy turnout is that it slows down the final results. In Salt Lake County, for example, final tallies may not be in until three or four in the morning--if nothing else comes up.
×