Estimated read time: 1-2 minutes
This archived news story is available only for your personal, non-commercial use. Information in the story may be outdated or superseded by additional information. Reading or replaying the story in its archived form does not constitute a republication of the story.
John Hollenhorst ReportingDemocrats in Utah are hoping to hold their heads up and win a few key contests. And they have a real chance in some major races.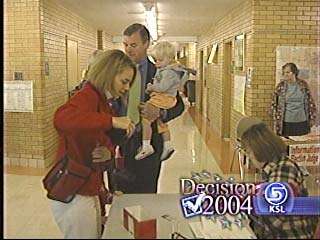 It isn't easy being a Democrat in the Republican territory known as Utah. Just this morning Salt Lake Tribune cartoonist Pat Bagley portrayed Democrats as a rare and exotic species in the zoo. But three major Democratic candidates who went to the polls today have a chance to pull out a victory tonight.
Peter Corroon is making a solid run for Salt Lake County Mayor. Representative Jim Matheson is in a tight race, but has a strong chance to win another term in Congress. His brother, Scott Matheson, Junior has a long-shot chance to become Governor.
Scott Matheson Jr., (D) Candidate for Governor: "Well, we always knew we'd be the underdog in the race. But look people root for the underdog. If the Red Sox can do it, we can do it."
Rep. Jim Matheson, (D) Candidate for 2nd Cong. Dist.: "It's been a good campaign. It's been a hard-fought campaign. But at the end of the day, I think people are going to respond to how I've been as a congressman. So I'm feeling good about tonight."
Peter Corroon, (D) Candidate for S.L. Co. Mayor: "Doing good, cautiously optimistic. But we're going to work hard today to make sure we get every last voter and every last vote."
The ballot is stuffed with other candidates, from the school board to the legislature. Democrats tonight will be hoping to come out on top in more than a few.
×