Estimated read time: 1-2 minutes
This archived news story is available only for your personal, non-commercial use. Information in the story may be outdated or superseded by additional information. Reading or replaying the story in its archived form does not constitute a republication of the story.
Tonya Papanikolas ReportingPeople traditionally vote at schools, government buildings, and sometimes libraries or churches. But this year the state elections director says a lot more private businesses are doubling as polling sites.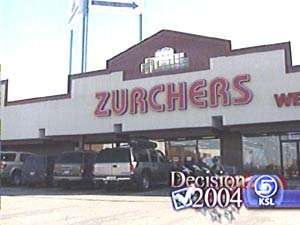 This year a few grocery stores are on the list, like Smith's and Dan's. You could get a few groceries after you're done voting. And this is just the beginning of unusual voting atmospheres. There's no clowning around at Zurcher's Party Store. Today voters are casting their ballots there.
Mario Alejandre, Voter: "I think it's multi-tasking at its top level. I'm sitting here listening to 'White Christmas', voting for President. And I'm seeing Frodo and Gandolph and the Crocodile Hunter all standing around me while I'm doing it."
You can also see the governor of California, but don't expect other political figures. At Zurchers they didn't want to influence voters, so they made sure to hide their George W. Bush cutout.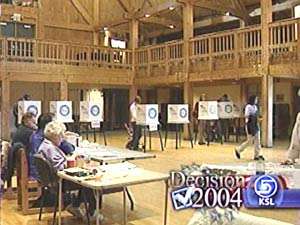 Marylee Utley, Zurchers Manager: "I think it's a lot of fun to have a lot of people come in. We start early, but it's okay. We enjoy it."
Other voters are punching their cards at Rite-Aids, K-marts and Kinko's. In fact, the Kinko's store on Fort made "I voted" stickers for the polling judges to hand out. At the gourmet market "Pirate O's," those judges had a culinary benefit.
Tom Jones, Polling Judge: "They've cooked sandwiches for us and carrot cake, and about everything you could have. Goodies out there for samples, so we've had a good time."
The smell of wood permeated the room the Wheeler Farm activity barn.
Justin Roberts, Voter: "Sometimes people think politics is a big zoo. But it's really a big farm here."
×