Estimated read time: 4-5 minutes
This archived news story is available only for your personal, non-commercial use. Information in the story may be outdated or superseded by additional information. Reading or replaying the story in its archived form does not constitute a republication of the story.
SALT LAKE CITY (AP) -- Republican Jon Huntsman Jr. -- aide to President Reagan, diplomat to Singapore, trade official under President Bush and heir to his family's chemical fortune -- added a new title Tuesday: governor-elect of Utah.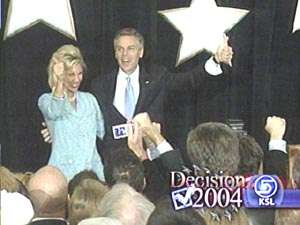 Huntsman's win was predicted early based on a statistical analysis from voter interviews conducted for The Associated Press by Edison Media Research and Mitofsky International.
At the Utah Capitol, Republicans were holding onto their veto-proof majorities in the House and Senate, although one of the Republicans lost his seat and the other was in serious trouble. Tim Cosgrove, a child safety advocate for Primary Children's Medical Center, beat Rep. Chad Bennion, R-Murray, 55-42 percent; and Fred J. Fife 3rd was leading Sen. James Evans, R-Rose Park, by 259 votes with 98 percent of the vote counted.
Fife, a former state representative, was trying to recapture the Democratic district Evans barely won in 2002, after the death of popular Democrat Rep. Pete Suazo in an ATV accident.
Huntsman had 56 percent of the vote with 90 percent of precincts reporting.
The AP analysis showed Huntsman's strongest support came from the Provo metropolitan area, a Republican stronghold 25 miles south of Salt Lake City. Democrat Scott Matheson Jr. drew most of his support from Salt Lake County.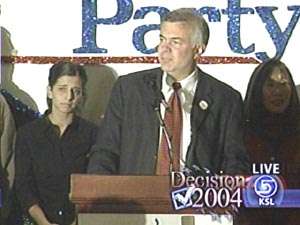 Almost two hours after polls closed, Matheson called Huntsman to "congratulate him on being elected the next governor of Utah." He called Huntsman "a quality person from a great family."
Huntsman told a frenzied crowd of GOP supporters he was "honored and humbled by your support in making (me) the next governor." He pledged to revitalize Utah's economy for "young people who need jobs."
Both candidates were equally recognizable to voters -- their families are the closest thing to royalty in Utah -- but given a choice, Utah residents were more likely to pick a Republican for statewide office.
"I like Huntsman's ideas, and I think he's a fresh face," said James Brinkerhoff, a 29-year-old customer service officer at the University of Utah hospital.
Matheson couldn't match Huntsman's campaign war chest, raising barely half of the Republican's $3.3 million, according to campaign spending disclosures filed as recently as Oct. 26.
Huntsman's election was a victory for parents lobbying for tax breaks for private-school tuition, which Matheson had opposed. It is almost certain to happen now, said Pat Rusk, president of the 18,000-teacher Utah Education Association, which endorsed Matheson. Still, Rusk said her organization would "work as hard as we can with the new governor to ensure that public education is a priority."
Huntsman, 44, is the son of Jon Huntsman Sr., who amassed a fortune of more than $2 billion with a conglomerate of companies that invented the clamshell container for the Big Mac. He is a philanthropist who has a cancer institute named for him.
The oldest of six sons and three daughters, Jon Huntsman Jr. worked for his father's enterprises for much of his adult life. He took a leave of absence as chairman and chief executive of Huntsman Family Holdings Co., the controlling shareholder in a $9.5 billion string of three major chemical manufacturing companies and hundreds of subsidiaries in other countries.
In his first bid for office, Matheson also aimed for the governor's seat -- and for a political hat trick for his family. His father was a popular two-term governor and his brother is Utah's only Democratic congressman.
Matheson, 51, may have been a political newcomer, but he had the credentials to match as the state's would-be chief executive: Rhodes scholar, Oxford student, Yale law graduate, a stint as U.S. Attorney for Utah and dean of the University of Utah law school before running for governor.
Huntsman ran what often sounded like a business recruitment campaign. He offered to raise Utah's profile to compare favorably with nearby states, particularly Colorado, by simplifying taxes, giving breaks to corporations, cutting capital gains taxes and providing economic incentives that would make the state more competitive.
Only by improving the economy, Huntsman said, could Utah hope to raise enough tax revenue to support a school system bursting at the seams. Utah has more school-age children as a percentage of its population than any other state.
Huntsman supported school vouchers, a favorite of some of Utah's most ardent Republicans, who have tried two years in a row to get tax credits subsidizing tuition at private schools through the state Legislature. With Huntsman's support they could succeed next year.
Huntsman's singular ambition to becoming governor contrasts with some of his aimless teenage years. He never graduated from high school, dropping out halfway through his senior year when he took up playing jazz piano in local bands.
Still, Huntsman got a college degree -- the hard way.
He enrolled at the University of Utah in 1978 when it was possible to do that as a non-matriculated student. That meant he received no credits while proving himself the first quarter. Then he left to serve a two-year proselytizing mission for the Mormon church in Taiwan, where he learned Mandarin Chinese, putting it to use as a diplomat for both Bush administrations.
Huntsman returned to the University of Utah for a few years, then transferred to his father's alma mater, the University of Pennsylvania, where he received a bachelor of arts degree in political science in 1987.
(Copyright 2004 by The Associated Press. All Rights Reserved.)
×