Estimated read time: 3-4 minutes
This archived news story is available only for your personal, non-commercial use. Information in the story may be outdated or superseded by additional information. Reading or replaying the story in its archived form does not constitute a republication of the story.
SALT LAKE CITY (AP) -- U.S. Rep. Jim Matheson held onto his seat despite a late barrage of negative campaigning in the rematch of a contest he barely won in 2002.
The Associated Press has called the race for Matheson, who was leading Republican John Swallow 56 percent to 42 percent, with 96 percent of the vote tallied.
His win completes the sweep for incumbents in Utah's congressional delegation and sews up the most open-ended question heading into election night.
Matheson won over Swallow in 2002 by a razor-thin 1,600-vote margin in a GOP-gerrymandered district -- setting up a contentious rematch that would attract bundles of national party funding.
The race was one of a handful assigned vast importance by the national parties, which are battling over a sharply divided U.S. House.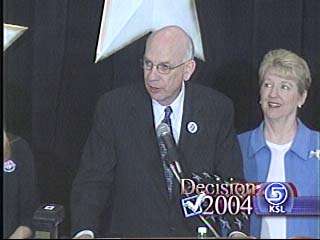 In other Utah congressional races, Sen. Bob Bennett handily beat Paul Van Dam and U.S. Reps. Chris Cannon and Rob Bishop defeated Beau Babka and Steve Thompson, respectively.
Van Dam was Utah's attorney general from 1989 to 1993, and one of only four Democrats to win statewide office in the past 30 years. Still, the junior senator dominated the fund-raising race between the two in a contest never considered close in heavily Republican Utah.
"Paul Van Dam is a serious politician. He ran a serious kind of race, given the odds he has. His problems were that he's been out of Utah politics for a dozen years now," Bennett said.
Bishop and Cannon's races were all but foregone conclusions heading into Tuesday, as the two faced two underfunded and relatively inexperienced Democratic challengers.
That meant all eyes were on the 2nd District, which Swallow said he wouldn't concede late Tuesday. He said he doubted his campaign would issue a concession until at least Wednesday.
"We're still guardedly optimistic that we have a chance to win this," he said.
Matheson beamed as the vote totals and projections rolled in -- still obviously agitated about what had become a bitter campaign.
"I'm all about running for this office, and I feel very confident that I'm doing what my constituents want me to do," he said. "This result tonight is a wonderful affirmation of that."
Utah's lone Democrat had galloped to a healthy lead in the polls, and the race generally flew under the political radar for several weeks.
But negative campaign ads from both sides salting the air and radio waves over the past few weeks had awakened the state to a dogfight.
It started with Swallow ads criticizing Matheson as a pro-abortion liberal out of touch with voters in this heavily conservative state, and persisted when Matheson painted Swallow as a party "yes-man."
Unexpectedly, a squabble between the state and national GOP over the ads created a somewhat embarrassing sideshow in the last week of campaigning.
Both sides pointed fingers at each other for negative mailings in some cases nailing Matheson for voting for Republican initiatives.
The Utah Democratic Party has lodged a Federal Election Commission complaint against Swallow's campaign, the state GOP and the National Republican Congressional Committee alleging the parties broke campaign law by not disclosing the NRCC's involvement in the anti-Matheson mailer.
The direct-mail piece criticized Matheson for supporting congressional efforts to give in-state tuition at public universities to dependents of illegal aliens who are residents of a state -- an initiative sponsored by Cannon and Republican Sen. Orrin Hatch of Utah.
(Copyright 2004 by The Associated Press. All Rights Reserved.)
×
Most recent Utah stories