Estimated read time: 1-2 minutes
This archived news story is available only for your personal, non-commercial use. Information in the story may be outdated or superseded by additional information. Reading or replaying the story in its archived form does not constitute a republication of the story.
Sandra Yi ReportingSgt. Phil Waters: "Somebody that's impaired does a lot of strange things."
Armed and drunk, a man threatens an officer with a knife then leads police on a dangerous, high- speed chase. The chase ended safely, this afternoon and now the suspect is in custody.
Fortunately no one got hurt. It all started when an officer stopped the suspect's van for making an illegal left turn, at 600 South and 600 West. As the cop approached the vehicle, the driver -- 38-year old Christopher Lett -- threw a cigarette lighter at him, brandished a knife, then took off.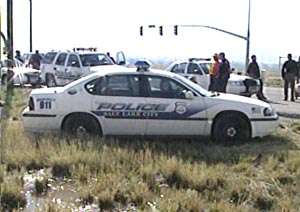 A Utah Highway Patrol dash camera shows Lett getting on I-15 at 5th South. He headed south for a while, then headed west. At 3200 West, he got on a frontage road and continued traveling on that road, until he stopped his car at 7200 West.
The entire chase lasted 11 minutes with speeds, at times reaching 90 miles an hour. Police say the route Lett took made the pursuit a little less dangerous.
Sgt. Phil Waters, Utah Highway Patrol: "Pursuits by nature are dangerous. We kept that to a minimum and a lot to do with that was because the traffic was light. He was on the side road and stayed away from congested areas."
Lett told officers he ran because he didn't have a driver's license. But police say he was drunk. He also had the knife he brandished under his seat.
This isn't the first time Lett has run from police. Officers say he does have a criminal history. Now he's in the Salt Lake County Jail on charges of felony fleeing, DUI, and driving without a license.
×