Estimated read time: Less than a minute
This archived news story is available only for your personal, non-commercial use. Information in the story may be outdated or superseded by additional information. Reading or replaying the story in its archived form does not constitute a republication of the story.
(KSL News) -- An out of control street sweeper tore down Highland Drive Wednesday, taking out ten cars in its path.
Salt Lake County Sheriff's deputies say the sweeper was headed downhill when it experienced some sort of mechanical failure, possibly lost its brakes.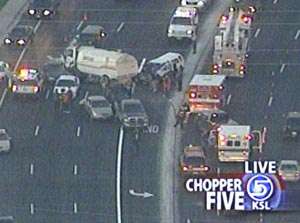 Deputy Clint Johnson, Salt Lake County: "The driver of a sweeper truck was apparently coming up on a red light and knew that those cars were stopped, but instead of hitting them from behind, tried to move to his left, then back to his right to miss all the traffic."
All that swerving failed. The sweeper crossed into oncoming traffic and hit ten cars before finally stopping.
Four people were hospitalized. All are expected to be OK. Taffic was backed up for two hours.
×