Estimated read time: 2-3 minutes
This archived news story is available only for your personal, non-commercial use. Information in the story may be outdated or superseded by additional information. Reading or replaying the story in its archived form does not constitute a republication of the story.
Alex Cabrero reporting Sandy Elementary had only a half-day of school today. That's good, because its 600- students would have been inside when something in the building started burning.
Anytime you hear a school is on fire in the middle of the day, there's going to be some panic. But today was only a half day at Sandy Elementary, and the fire didn't start until almost everyone was gone.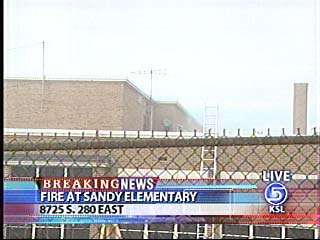 In the small neighborhood near Sandy Elementary, word spreads fast.
Kim Duncan: "My grandma called my mom, my mom called me."
Mandi Kener: "My mother in-law called me."
Hopefully, the flames were a little slower.
Michael Thrall, Grandfather of Student: "We came over here just to see how bad the damage was."
Michael Thrall couldn't believe it when he heard the school his grand-daughter went to was burning.
Michael Thrall, Grandfather of Student: "I was hoping nobody was hurt, that everybody got out okay."
Fortunately, Sandy Elementary only had a half-day of classes. The fire came after.
Steve Mccleary: "There was a lot of smoke coming out the top of the building and firetrucks were everywhere."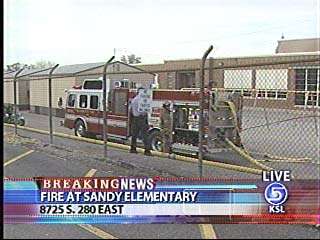 And where there's smoke, usually there's fire. Even a 3rd grader can tell you that.
Neasha Thrall, 3rd Grade Student: "I'm worried if my teacher is in there, and if she didn't get out."
Reality through a child's eyes is different than through an adults. Even after young Neasha Thrall found out everyone was okay... she was still worried... about her classroom.
Neasha Thrall, 3rd Grade Student: "It's a really nice school. I'm not going to be able to go to this school anymore if it's burnt down."
When the first wave of firefighters came to the school, flames were shooting through the roof, so they called for backup. Eventually, though, they got the fire under control, and they're happy nobody was inside.
Michael Thrall, Grandfather of Student: "If the kids were in school, it could've been a lot worse."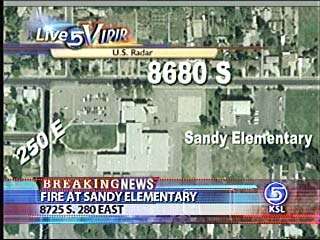 A welder was doing some work in the room where the fire started earlier in the day.. It's possible he left something behind that sparked the fire.
Regardless, Sandy firefighters say it is an accident.
The school is closed tomorrow for a teachers conference. That meeting will now be held at the district office. They'll also decide what to do for Monday.
×