Estimated read time: 2-3 minutes
This archived news story is available only for your personal, non-commercial use. Information in the story may be outdated or superseded by additional information. Reading or replaying the story in its archived form does not constitute a republication of the story.
Sandra Yi ReportingPolice are investigating two fatal shootings in 24 hours. No arrests have been made so far in either case. Police know who the triggermen are in both shootings. One is still on the run, the other is cooperating with investigators. In both cases, the suspects and victims were close.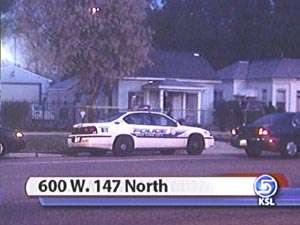 Berna, Neighbor: "We didn't think nothing of it. There are always people arguing."
A heated argument in a Salt Lake City home ended with one man dead. Police say the 35-year old victim took a bullet to the neck. But no one heard the gunshot.
Berna: "We get up in the morning and went out to get my newspaper. There are police out here, all of a sudden, there was all kinds of police out here, wondering what happened."
Investigators are asking the same question. This afternoon they brought out bags of evidence from the house. Police believe the suspect is a relative. They hope a woman who was sleeping inside will have some answers.
Lt. Melody Gray, Salt Lake City Police Dept.: "She's pretty traumatized, so little by little she's been able to tell us information."
Another fatal shooting has deputies wondering what went wrong. Last night, they found 21-year old Travis Gilgen in the kitchen of his Kearns home. He had a gunshot wound in his upper body. Investigators say they're talking to the person who pulled the trigger.
Sgt. Rosie Rivera, Salt Lake County Sheriff's Office: "I believe they were both friends that resided there. Something occurred and there was a shooting there."
The 19-year old suspect has not been arrested, as investigators try to figure out exactly what happened.
Sgt. Rosie Rivera: "We're looking at either it was an accidental shooting or a murder."
If the Kearns shooting turns out to be murder it would be the seventh in Salt Lake County, in the past two and a half weeks.
×
Most recent Utah stories