Estimated read time: 2-3 minutes
This archived news story is available only for your personal, non-commercial use. Information in the story may be outdated or superseded by additional information. Reading or replaying the story in its archived form does not constitute a republication of the story.
Ed Yeates ReportingChildren in a Utah psychiatric treatment program are expressing their pain and challenges on canvas. The exhibit, called "The Me Nobody Knows," may be nothing like you've seen before.
In one piece of artwork, a troubled teen reflects a mind full of scars, a broken heart, questions about the future, and sadness. Her rendering at the Salt Lake Library is only one of many - a celebration exhibit of young patients in psychiatric treatment programs.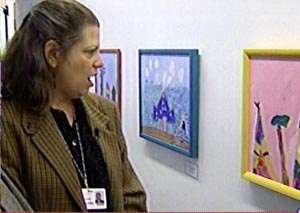 This kind of outlet for therapy has been ongoing at Primary Children's Hospital for the past fifteen years. But this is the first time the work from these kids has been on display in a public place.
Nick Papastamos, PCMC Treatment Coordinator: "For it to come out in their art and have that outlet and have it be a subconscious process, sometimes it's a real effective means of getting that stuff out and then providing the therapist with insight."
Louise Fischman teaches the art of art for these kids.
Louise Fischman, PCMC Art Educator: "And then they take those tools and use them to express their feelings, to give them more of a voice when perhaps verbally they can't express everything."
One girl paints herself stilted, no smile, deer in the headlight eyes.
Nine-year old Mackenzie made a mask portraying her dog, something that makes her forget about what's happened to her.
Mackenzie: "It makes me figure out, like keep your eye on something else and not what you don't like."
Laura Joesten, PCMC Recreation Therapist: "To see them framed, to see them up and to see other people looking at them and experiencing, it's really a big self esteem booster."
Even for a boy with a lot of anger - eyes always watching him, flames, tears and more -having others see this is extremely healing.
"The Me Nobody Knows" exhibit is on display now at the Salt Lake City Library's Children's Gallery.
×