Estimated read time: 2-3 minutes
This archived news story is available only for your personal, non-commercial use. Information in the story may be outdated or superseded by additional information. Reading or replaying the story in its archived form does not constitute a republication of the story.
Sam Penrod reportingA Lehi man tries to runover a deputy, sparking a massive police chase, and standoff in Utah County.
The standoff ended late Thursday night near 2900 N. 1220 East in Lehi. A 63-year-old suspect was arrested by the SWAT team after he came out of his home. Over 100 police officers were involved.
Around 7pm Thursday night, a Utah County Sheriff's Deputy was called out on reports of shots being fired by a man. The deputy found the apparently drunk man. There was some sort of struggle where the deputy tried to use some pepper spray and ended up getting some on himself. The suspect then assaulted the deputy before getting into his vehicle, and trying to run the deputy over.
The deputy in distress prompted a huge response from law enforcement, including the SWAT team.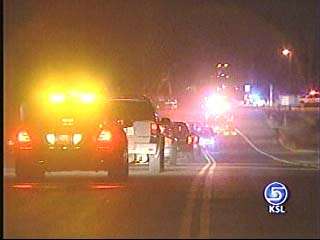 Sgt. Spencer Cannon, Utah County Sheriff's Office: "We treat it as a very dangerous situation, to the officers involved and responding. So you get a big response, because you don't know how big this could be. Until you can pinpoint exactly where the person is, you want as many officers here, so you can have eyes in the area, as much as you can."
Jason Taylor, Suspect's Neighbor: "There's been multiple times that we have had cops out here for gunshots on his property. A few people have called about him landing his airplane on the property, flying over our houses pretty low. A lot of the people in the neighborhood know about him, and nobody really knows anything about him personally, because he's in his house, hidden behind so many trees."
The suspect is 63-year-old William Rieck of Lehi.
What the whole situation was about is still unknown. Neighbors say that he is against a new housing development, and made it clear he was unhappy about the land turning into houses.
A few homes were evacuated. Most people were unable to go home because of the standoff.
The deputy has a few minor injuries from being assaulted, and from the pepper spray.
×
Most recent Utah stories