Estimated read time: 2-3 minutes
This archived news story is available only for your personal, non-commercial use. Information in the story may be outdated or superseded by additional information. Reading or replaying the story in its archived form does not constitute a republication of the story.
Scott Haws ReportingNearly a thousand people descended upon Heber Valley this morning at the break of dawn, and they were all after the same thing.
"We brought boiled eggs, toast, juice, hot chocolate. It's one of the funniest things we do all year long."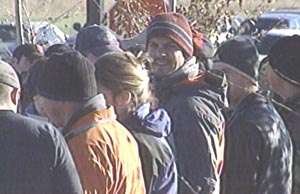 Packing a parka or parking with propane doesn't sound all that fun. All these people, as in hundreds and hundreds of cold people standing in line for hours....fun? So why were all these people standing in line? Well the bottom line, they want to cut down a Christmas tree and they want to do it themselves.
That's right, it's the annual rush to get one of the 1500 coveted Christmas tree permits from the Heber Ranger District of the Uinta National Forest. And for the second year, permits are being sold for just two days, 750 each day, at Soldier Hollow. For the 16th year in a row, the line has started with the same man -- Kevin Griswold, I mean Kevin Arnold.
Kevin Arnold, First in line: "Coyotes were keeping me up last night."
That's right, Kevin slept over night here to make sure he was numero uno, king of the line.
Kevin Arnold, First in Line: "I used to come up here around 3:30 or 4:00 in the morning, but it just kept getting earlier and earlier so I said, why get up? Just come up here and stay."
Like we said, there are only 750 permits going out today. Who will be left out in the cold? Who will be longing even more for that perfect tree in their neighbors yard? Who? Unfortunately, there were about 50 people who were sent packing without a permit. So for those thinking about coming out Saturday morning, the line just got longer.
It only took 42-minutes to sell out of the $10 permits. And again the last 750 go on sale, tomorrow at 9:00 at Soldier Hollow.
×