Estimated read time: 2-3 minutes
This archived news story is available only for your personal, non-commercial use. Information in the story may be outdated or superseded by additional information. Reading or replaying the story in its archived form does not constitute a republication of the story.
Amanda Butterfield reporting The United States Marines are celebrating their 229th birthday today. To honor the anniversary, Utah marines did something they've never done before: They ran a mile for every year.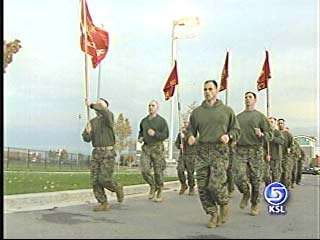 The race started Monday morning, and through two cold nights, bad weather, and aching muscles, they never stopped running.
There were times the temperature dipped into the 20's. And there was rain, and wind, but they never stopped running.
More than 80 Utah marines celebrated the U.S. Marines Corps 229th birthday in the relay run. It was the first time they've done it. Starting Monday morning, they ran in pairs, continuously,
trading off every three miles.
With the Recent fighting overseas, this run brought them closer to their comrades.
Sgt. Maj. Shon Brodie, United States Marine Corps: "It unifies the marines of Utah a little bit, and makes a feel a little more involved with our marines over there."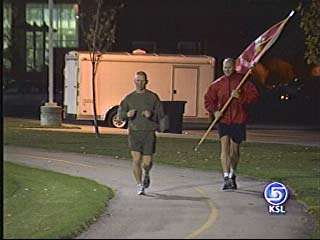 For the last mile, they ran together through the streets of West Valley with a police escort, chanting the entire way.
After the run, the birthday cake was cut, with a Utahn standing by who joined the marines long ago.
Master Sgt. John Draper, Retired United States Marine Corps: "January 10th of 1940."
And a newcomer:
"I joined the marines November 21, 2003."
"It is tradition...to share cake first with oldest marine"
Symbolizing the passing on of marine values.
Lance Cpl. David J. Nelson, United States Marine Corps: "It makes you really proud to stand up there, and stand in the footsteps of the guys before us to honor them."
John Draper/Retired Marine: "It makes you feel kind of good."
And though the cutting of the cake is a long standing tradition, the relay run may soon turn into that.
The marines were very happy with how this relay turned out, and plan to do it again next year, and invite the community.
×