Estimated read time: 2-3 minutes
This archived news story is available only for your personal, non-commercial use. Information in the story may be outdated or superseded by additional information. Reading or replaying the story in its archived form does not constitute a republication of the story.
Keith McCord ReportingCharitable groups and other organizations often hold fundraising events to help their cause. Auctions, formal dinners and golf tournaments are a few ways to bring in the money. But the folks at Salt Lake's Tracy Aviary have come up with something unusual.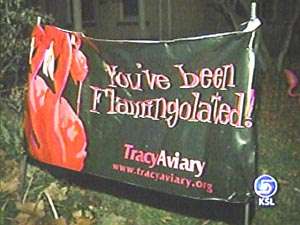 ave you ever been "Flamingolated"? Well, during the next year, there's a chance you might be. It's all part of a fund-raiser for the Aviary.
The birds that will bring in the money are made of plastic, and last night the flock went to work. A couple of aviary employees, under the cover of darkness, unloaded about 20 plastic flamingos, and placed them in Salt Lake City Mayor Rocky Anderson's front yard.
Marjie Noble, Dir. of Marketing, Tracy Aviary: "It's really the 21st century version of getting toilet-papered. But it's a lot more fun. It supports a great cause and it's much easier to clean up."
A few minutes later they drove to county mayor-elect Peter Corroon's house and did the same thing. After the birds were in place, instructions were hung from the doorknob.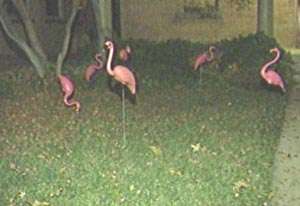 Marjie Noble, Dir. of Marketing, Tracy Aviary: "It's called being flamingolated. And once this has happened to you, you have several choices as to how you can deal with it."
Anderson and Caroon agreed to go along with this "fowl play". For the next year, Tracy Aviary hopes this flock of plastic flamingos will "fly" to various places and raise tens of thousands of dollars. To get rid of them, you make a donation. For a small contribution, the staff will take the birds to an unspecified location.
Marjie Noble, Dir. of Marketing, Tracy Aviary: "Now for a little bit more you can actually determine the flight path of the flock. You can decide that maybe they need to visit your mother-in-law, or maybe they need to go see your boss."
The aviary, now 65-years old, is about to embark on a new construction project for a new exhibit called "Destination Argentina". When it opens next summer the plastic birds will then come back to roost at the aviary. Until then they'll fly from place to place.
Marjie Noble, Dir. of Marketing, Tracy Aviary: "They have a really good temperament. They're calm and stay quiet at night. They don't make any noise. They don't wake anybody up. They don't make a mess in your yard."
The new exhibit does have funding in place, but the money raised from the plastic birds will also help in the effort, as well as pay for future projects.
×
Most recent Utah stories