Estimated read time: 2-3 minutes
This archived news story is available only for your personal, non-commercial use. Information in the story may be outdated or superseded by additional information. Reading or replaying the story in its archived form does not constitute a republication of the story.
Shelley Osterloh ReportingThis is the time of year when many high schools put on their school musicals. One student at Davis High School has a small, part but has made a big impression on the cast.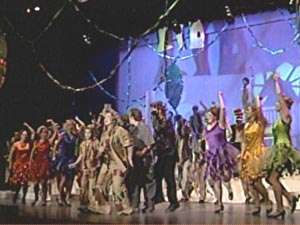 18-year old Duncan Howard is bright and understands others, but cannot speak because of Cerebral Palsy. He is one of 60 students performing in the Davis High School production of 'Seussical the Musical.'
Though not quite finished, his costume fits over his wheel chair and makes him look like the bus driver. Students say Duncan is well liked because of his attitude and smile.
Joan Johnson: "Whenever I'm having a bad day or I've done something wrong, I'll go downstairs and he is just grinning. He always makes everyone smile "
Taylor Hunsaker: "I think he's awesome because sometimes when we are having a stressful time, somebody will make a joke and his laugh is the greatest."
Eric Gunn, Duncan's cousin: "He just loves to be here, loves everything, loves life. He's a great kid."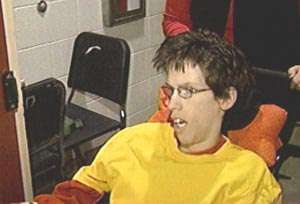 Duncan's friends and family say it seems right that he is in the high school musical. In fact since he was a baby he loved to listen to Broadway musicals.
His mother Sydney did the costumes for the show, and father Troy helps out too. They are grateful the kids at Davis have been kind to Duncan, but know he contributes to them too.
Sydney Howard,, Duncan's Mother: "They learn to accept and see that it's not scary."
Troy Howard, Duncan's Father: "What he can do is help them understand that even if you have some kind of disability or some special need in your life, that's not something that should stop you."
It's a life lesson the director says is also the theme of the show.
Andra Thorne, Director and teacher: "That you can do anything you want and that anything is possible. Its actually one of our songs."
And with the help of friends, Duncan Howard is doing the most he can, always with a smile.
"Seussical the Musical" opens Friday night at runs through the 20th at Davis High School. Before each performance students will honor someone in the community who has overcome a major obstacle in their life.
×