Estimated read time: 2-3 minutes
This archived news story is available only for your personal, non-commercial use. Information in the story may be outdated or superseded by additional information. Reading or replaying the story in its archived form does not constitute a republication of the story.
Tonya Papanikolas ReportingAs the fighting continues in Iraq, Americans are remembering veterans on this day. At one Utah high school they planned a special assembly.
Veterans Day is usually a day to honor those who have defended our nation in previous wars. But with all the fighting going on, it also seems appropriate to remember those who are currently serving our country. West Jordan High School did that today and got the chance to honor some of their own.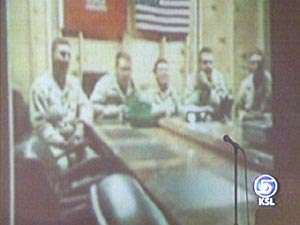 West Jordan High School honored several veterans today. Oral Birch was a prisoner of war in World War Two and Mike Johnson lost his legs in Vietnam.
Mike Johnson, Vietnam War Veteran: "I love nothing about war. I love nothing about fighting. But I do love my country."
The highlight of the event for many students was a very personal tribute. A West Jordan science teacher, Colonel Ed Willis, is in Iraq with the National Guard. Today he spoke to the school through a video teleconference.
Willis was joined by four West Jordan graduates with the 115th engineer group. One by one they gave messages to the students and their families.
Colonel Ed Willis, Serving in Iraq: "Glad to see you there Kayleen, Koly and Kennedy. And I'm very proud of all of you."
Kayleen Willis, Husband Serving in Iraq: "We miss him a lot. But we support him and his job and want him to come home safe."
Even one of the soldiers got emotional.
Sgt. JD Warby: I'd like to say hi to my family…and tell them that I love them and I miss them."
Deborah Neville, Student: "I began to think of how many parents don't get to see their kids grow up because they're fighting for me, someone they don't even know."
Nick Howard knows that sacrifice, since his father is one of the guardsmen.
Nick Howard, Father Serving in Iraq: "I miss him a lot. But it's good to see him like that. I think that he wanted people to realize we are doing good over there."
Colonel Ed Willis: "We're rebuilding their entire military, we're rebuilding the entire police force."
Deborah Neville: "It's nice to be reminded of their sacrifices."
Though Colonel Willis may not be able to teach his classes, West Jordan students are still learning from him all the way across the world.
The students got a chance to ask the soldiers some questions about Iraq. They wanted to know about the weather there, the condition of the schools, and if the Iraqi government could hold the country up on its own without our help. The soldiers said they thought that would take some time.
×