Estimated read time: 2-3 minutes
This archived news story is available only for your personal, non-commercial use. Information in the story may be outdated or superseded by additional information. Reading or replaying the story in its archived form does not constitute a republication of the story.
Ed Yeates ReportingImagine muscle spasms so bad it's like doing uncontrollable, exhausting high impact aerobics 24 hours a day. That's what a Utah man is going through right now - and why a Cleveland hospital wants to try an experimental procedure that just might cure him.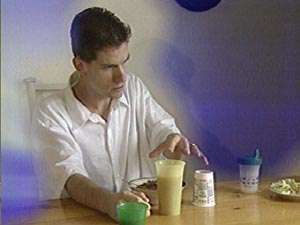 If I was in Peter Jensen's shoes right now, I might suddenly, and without warning, break into violent muscle movements. The spasms coming through my voice would also make it so I could no longer talk to you.
Peter Jensen's physical and vocal tics are so bad, so continuous, he sweats profusely. He wears loose clothes and no shoes, trying to keep his body from overheating -- even going out on the patio in the winter to cool down.
Peter Jensen: "I'm gone by the end of the day. I mean I have a headache. It's just so overwhelming."
Peter has Tourette Syndrome, one of the worst cases Dr. Jason North has ever seen. Though this young 29-year old father of four is trying to finish school, he can't hold onto a job to support his family.
Peter Jensen: "Constant effort to get each word out, to just talk."
Tourette Syndrome produces a chemical overload of signals in the brain. The body can't handle them and goes into spasm. One minute you're talking and functioning normally, the next you're not.
Peter weighs only 118 pounds right now because in between trying to control the tics and eat, by the time he's finished he's lost his appetite.
Earlier this year, surgeons at University Hospital in Cleveland, Ohio, performed an experimental surgery on Tourette victim Jeff Matovic. They implanted electrodes deep inside his brain, connecting them under the skin to pacemaker devices on each side of the upper chest.
After the surgery Jeff was 85 to 90 percent tic free. For the first time he could walk and sit in a chair. When Peter saw what happened..
Peter Jensen: "Honestly, I wept. I was so overcome that I wept."
Now, pending FDA approval, Peter could become only a handful of Tourette patients in the United States to undergo the same experimental surgery.
Peter Jensen: "I think that would be a wonderful thing."
Roshana Jensen, Peter's Wife: "It's going to be a pretty incredible change when it does happen."
Dr. North says it's only a matter of time now until Peter's body wears out. His options are running out.
Dr. North: "This is pretty much the last straw."
Peter's friends are trying to raise $100,000 to help him pay for the Cleveland experiment. So far, they've raised about $30,000.
Donations can be made to the Peter C. Jensen Fund at any Zion Bank, or any The Village Bank in St. George.
Or they can be sent to:
Rhea Tuft
Southern Utah Foundation
351 W. University Ave.
Cedar City, UT
84720
Specify the donation should be given to the Peter C. Jensen Fund.
×