Estimated read time: 1-2 minutes
This archived news story is available only for your personal, non-commercial use. Information in the story may be outdated or superseded by additional information. Reading or replaying the story in its archived form does not constitute a republication of the story.
John Hollenhorst ReportingMelissa Wold: "You just take your family, thank God that you're alive, and then slowly rebuild."
A Draper mom talks about her family's desperate escape from a fire that swept through their apartment. She was forced yesterday morning to do what no mother would want to do. She dropped her children a short distance into the arms of her husband. He's now recovering from injuries at the University Hospital.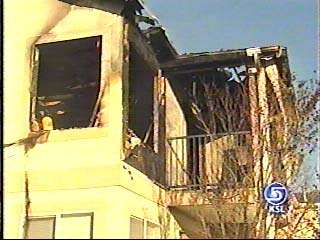 We spoke with Melissa Wold a little while ago. She's uninjured, but she's staying at the hospital while her husband Michael recovers from a broken ankle and smoke inhalation.
The family of four was in their apartment yesterday on their baby's first birthday. Their older child turns two in a few weeks.
Melissa Wold says she was awakened by the sound of a smoke alarm and saw lots of fire and smoke. The front door was blocked by flames so the family gathered at a window.
Melissa Wold: "And then we called 9-1-1. And that's when we mad the family decision, there wasn't going to be enough time. And he jumped out of the window so I could hand him the kids. I took my daughter and handed her down to my husband and then I handed my son down.
"They had to drop probably about two feet. I had them under their arms, so they didn't have to go very far before they reached their dad.
"I knew my husband would catch them. I had complete faith in him. So we made the right decision for our family. And he would never let anything happen to them."
The family's apartment was completely destroyed, but not before the family inside was able to escape with their lives.
×
Most recent Utah stories