Estimated read time: 1-2 minutes
This archived news story is available only for your personal, non-commercial use. Information in the story may be outdated or superseded by additional information. Reading or replaying the story in its archived form does not constitute a republication of the story.
Sandra Yi ReportingA small Utah town is still talking about a Columbine style plot by four high school students. Police uncovered the plot last month at Uinta High School in Vernal. Two of the suspects were scheduled to be in court this morning, but their hearing was delayed.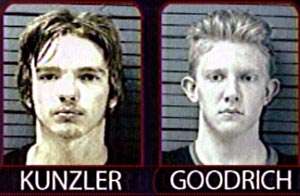 That hearing was continued because of some scheduling problems. But information of the alleged plot is expected to come out in court, but documents today revealed details that police say came from the suspects themselves.
Despite disturbing allegations against four students at Uintah High School, the neighbor of one of the accused stands by him.
Neighbor: "He's a good kid. I've been here for 25 years, known him for 15, wonderful neighbors."
Eighteen-year old Stephen Kunzler and 17-year old Todd Goodrich, along with two juveniles are charged with making terroristic threats.
Paul DeWitt: Uintah County Deputy Attorney: "It had to do with specific threats towards the school and individuals in the school. And they had gotten together and made this plan."
According to the probably cause statement, the four confessed to plotting a Columbine style attack at their high school. The teens told authorities they were building an explosive device and that the incident would take place in the commons area of the high school where it would, "have the most impact."
One of the teens said they would use a firearm to shoot students. Court documents say potential victims including teachers were identified by name. Police say they also received information that the teens wanted to kill each of their parents.
It could be a couple of weeks before the judge decides whether or not the teens will go to trial.
×