Estimated read time: 2-3 minutes
This archived news story is available only for your personal, non-commercial use. Information in the story may be outdated or superseded by additional information. Reading or replaying the story in its archived form does not constitute a republication of the story.
Ed Yeates ReportingThe folks at TRAX say they've never seen anything like this before. Major electric circuitry for crossings and track signals were literally "fried" this morning shortly after a power outage.
The damage shut down arms and signals at three crossings and a switching mechanism for TRAX trains over the State Street Bridge. And they're going to be down for quite some time. At least until midnight tomorrow. Until then, you can expect to see UTA crews at the crossings, hand flagging motorists while the trains pass through.
It got so hot in three major signal houses along the Trax lines, electrical circuits melted. The "frying" appears to have started shortly after or about the time of a power outage on Utah Power's system early this morning.
TRAX is bringing in manufacturing teams from Idaho and Oregon to make repairs as quickly as possible and to probe the charred remains.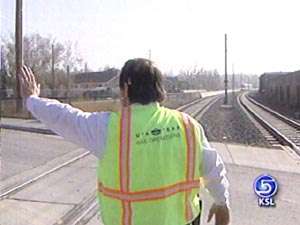 Paul O'Brien, General Manager, Trax Operations: "I'm not aware of anything exactly like this, but we'll certainly be gathering all the information we can to give us a lead on exactly what may have caused this."
In addition to this major damage, other burned insulation was discovered in other smaller rail-side boxes, but that damage was minor and repaired quickly.
While crews flagged motorists at affected crossings, others were manually opening and closing switches so trains could pass over the single track State Street bridge. Fortunately the computer itself and backup batteries in the signal houses were not destroyed. So tonight, tomorrow and tomorrow night at the 8700, 7720 and 75 hundred South crossings - be careful.
Paul O'Brien: "We will have people in bright vests there, and please pay attention to them and obey their signals."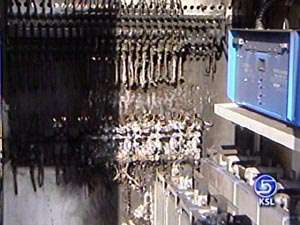 Trax is working for that midnight deadline tomorrow in hopes of having the circuitry up and running in time for the Saturday crowds heading north to the big game on the hill.
×