Estimated read time: 2-3 minutes
This archived news story is available only for your personal, non-commercial use. Information in the story may be outdated or superseded by additional information. Reading or replaying the story in its archived form does not constitute a republication of the story.
John Hollenhorst ReportingEverybody produces sewage but nobody wants to live near it, and there's a big fuss over it tonight in the south end of the valley.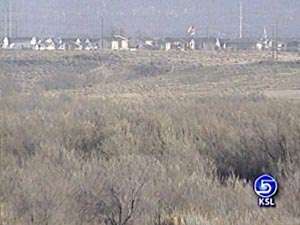 The issue is a proposed sewage treatment plant alongside the Jordan River. It's a hot topic in Draper and Riverton. And it's a good guess hundreds of opponents will turn out tonight for a public hearing.
Riverton and Draper are divided by the Jordan River; it's their boundary. But people are coming together on both sides. They've organized opposition to a big new sewage plant. And distributed flyers for miles around.
Melodie Tolentino, Draper: "All I could visualize when I first read it was, 'Oh my gosh!"
Tami Price's patio overlooks the area where the sewage plant would go.
Tami Price, Draper: "That's the River Bend Golf Course, which is incidentally the highest grossing golf course in the county. And I don't think people will want to golf there with the smell and the sight of a sewer plant right next door. It mars the beauty of this whole area."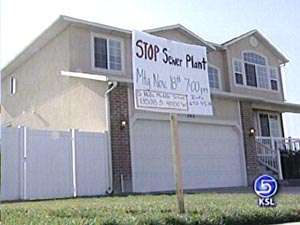 The proposed site is around 13400 South, on the West side of the Jordan River. A sewage plant there would serve the southern third of the Salt Lake Valley. Sewer district officials want to add treatment ponds there because existing facilities will soon reach capacity, thanks to rapid population growth.
They claim the proposed plant will blend in visually with its surroundings, and won't create undue odors of sewage and chemicals. Neighbors are highly dubious.
Tami Price: "It just doest fit in at all with the whole plan of the Jordan Parkway."
Melodie Tolentino, Draper: "The chemicals, I'm worried about the chemicals because the winds here are so strong."
Riverton officials say they haven't made up their minds yet. But they agree there's a need for more sewage capacity.
Mark Cram, Riverton City Manager: "And I think as long as we continue to produce waste, whether it's sewage or whether it's what goes into a landfill, there needs to be a way to handle it. And so, as we continue to grow there will continue to grow there will continue to be needs."
But the big question tonight is whether the plant could be built somewhere else, or if the existing West Jordan plant could just be expanded. Sewer district officials say that option would add 30 million dollars to the price tag.
Expect a lively discussion starting about 7pm.
×