Estimated read time: 2-3 minutes
This archived news story is available only for your personal, non-commercial use. Information in the story may be outdated or superseded by additional information. Reading or replaying the story in its archived form does not constitute a republication of the story.
Coco Warner ReportingAnother thrown rock on the freeway, another victim thrown for a loop. But the Utah Highway Patrol says they've caught their man.
The Utah Highway Patrol believes they have found the man responsible for throwing rocks at motorists on some of Salt Lake City's freeways. The arrest came this morning after a South Jordan man became yet another victim.
Who would have thought that freeway overpasses could cause such concern for Salt Lake commuters? Yet for the past week, that's been the case. But hopefully, with today's arrest, drivers can breathe a bit easier.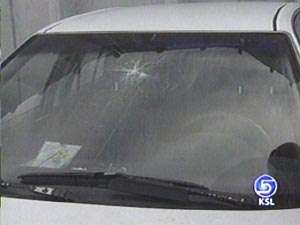 Danny Wheeler, Rock Throwing Victim: "I think it was pretty much headed right for me, so I'm pretty fortunate that it didn't penetrate and go through all the way through."
Danny Wheeler said he felt a bit nervous driving to work this morning. He took a different route, a route he knew from previous news reports, had been unlucky for some other drivers.
Danny Wheeler: "I guess you never think that something like that is going to happen to you-- you know, I'd heard on the news, I was trying to be extra cautious, but I didn't see anything."
As Danny was headed North on Interstate 215, just before he took the I-80 exit, his car was hit by a large rock. Danny called 911 and the Utah Highway Patrol immediately searched the area.
Trooper Lance Reynolds, UHP: "There was a sketchy description that we got from some individuals yesterday. There's a couple of transient camps yesterday and the individual was described as a white thin male with a red coat, well the state troopers found a person fitting that exact description."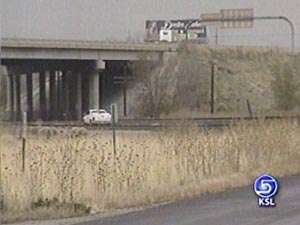 Troopers apprehended the man in an area just below the Redwood Road overpass, northwest of I-80. The suspect is a 22-year old homeless man named Michael J.Purdy, who investigators say may have some mental health issues.
Trooper Lance Reynolds, UHP: "It seems like gosh it's just at random, no specific vehicle, no specific persons."
The randomness for victims can almost make it worse. The price you have to pay-- both financially and emotionally-- just doesn't make sense.
Danny Wheeler: "So it's the consumer who's stuck with this meaningless violence, we're the ones who end up paying for it."
The Utah Highway Patrol has booked the suspect on five counts of aggravated assault.
×
Most recent Utah stories