Estimated read time: 2-3 minutes
This archived news story is available only for your personal, non-commercial use. Information in the story may be outdated or superseded by additional information. Reading or replaying the story in its archived form does not constitute a republication of the story.
Sam Penrod ReportingA young Provo girl tells how she was able to get away when a man tried to kidnap her. As Eyewitness News first reported last night, the man arrested in this case, is the same suspect in a child kidnapping in Springville during the summer. But the man got out of jail after a judge lowered the suspect's bail from $250,000 to just $25,000.
Nine-year old Candy McBride says she knew how to get away from the man, because she learned how to in school. In fact, all students in the Provo School district are taught a self-defense class called Rad Kids. And in Candy's case, it may have been the key to her escape.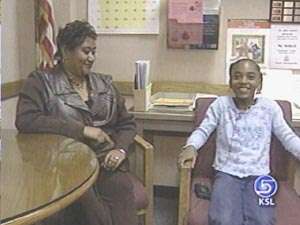 As Candy McBride got off the school bus Monday afternoon, she says a man ran up to her and grabbed her.
Candy McBride, Fourth Grader: "He had his hands over my back like that, and he had his hand over my mouth."
But Candy, a fourth grader in at Joaquin Elementary in Provo, knew exactly what to do.
Candy McBride: "I hit him like that and then I got to turn around. And then that's when he punched me and I punched him back and then I slapped him and he slapped me back."
As Candy ran home, she immediately told her mother.
Charlotte Carr, Girl's Mother: "When she came and told me she wasn't scared, she was mad he ripped her jacket and he put his hands on her. And I had a real problem with that."
But Charlotte Carr became even more concerned as Candy told her more about what happened. Police began investigating, and on Wednesday Candy was able to pick the suspect's picture out of a photo lineup.
He is 26-year old Jimmy Guard, the same man accused of a bizarre attempted kidnapping of two Springville girls in July.
For the last three years, students in the Provo School District have had the Rad Kids training, on how to deal with strangers who act inappropriately.
Greg Hudnall, Provo School District: "The research shows that if you want to help children, prevention is the model and the key. And I think after this last experience it's just one more time to prove it's a very good program to protect our children."
As for Candy, her mom, teachers and classmates are all happy she knew what to do in a dangerous situation.
Charlotte Carr: "I'm very proud of her. She did exactly what she was supposed to do and what she needed to do to be safe."
×
Most recent Utah stories