Estimated read time: 2-3 minutes
This archived news story is available only for your personal, non-commercial use. Information in the story may be outdated or superseded by additional information. Reading or replaying the story in its archived form does not constitute a republication of the story.
Ed Yeates ReportingMore information tonight on the young man in Cedar City trying to battle almost continuous and uncontrollable muscle spasms. Since our story aired, there's been a tremendous outpouring of support from communities around the state.
The FDA has given the University Hospital in Cleveland, Ohio tentative approval to do an experimental implant that could shut down Peter Jensen's uncontrollable muscle and vocal tics from one of the worst cases of Tourette Syndrome his doctors have seen. The FDA wants additional information from the hospital before it will give final approval.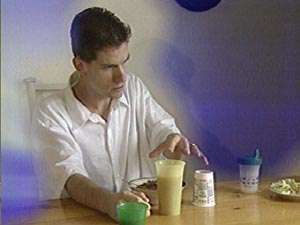 Meanwhile, Dr. Jason North in Cedar City is taking immediate steps to keep Peter from hurting himself. During spasms, he hits himself hard. So the plan is to build a shield that fits around the chest and stomach, protecting his ribs and internal organs.
Polly Bringhurst, Peter's Sister: "They want to give him some narcotics to keep him asleep most of the time. He will be able to take care of basic hygiene and that's it. They want his body to completely rest."
Since our report last week, donations to Peter's fund have doubled - from $30,000 to near $60,000. His friends are trying to raise $100,000 to help him get the implant.
Tourette patient Jeff Matovic had the implant in Cleveland and went from barely being able to walk, to carrying drinks and sitting calmly. Peter is hoping for the same outcome
Deputy Nolan Gray with the Washington County Sheriff's Office is now challenging other law enforcement groups in Southern Utah to a donation war, hoping to hit that $100,000 mark for Peter.
Donations can be made to the Peter C. Jensen Fund at any Zion Bank, or any The Village Bank in St. George.
Or they can be sent to: Rhea Tuft Southern Utah Foundation 351 W. University Ave. Cedar City, UT 84720
Specify the donation should be given to the Peter C. Jensen Fund.
×