Estimated read time: 3-4 minutes
This archived news story is available only for your personal, non-commercial use. Information in the story may be outdated or superseded by additional information. Reading or replaying the story in its archived form does not constitute a republication of the story.
(Salt Lake City-AP) -- The BCS is all but busted.
Utah beat rival Brigham Young 52-to-21 today -- completing its first unbeaten season since 1930 and putting the Utes one step closer to the first appearance in the Bowl Championship Series for a team from a mid-major conference.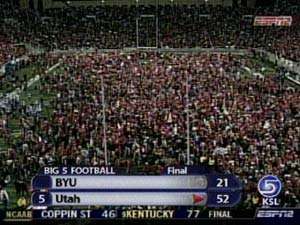 Receiver Steve Savoy ran for two touchdowns and caught a pass for another score to lead the fifth-ranked Utes (eleven-to-zero seven-to-zero Mountain West) and help offset the worst game of the season for Alex Smith. Utah's Heisman hopeful quarterback threw two interceptions -- doubling his season total -- and had another in the hands of a B-Y-U defensive back that was dropped.
But Smith had enough help around him to get Utah past the rival Cougars (five-to-six four-to-three) for the third straight year.
Savoy ran 92 yards for a score in the third quarter that turned the game for good in Utah's favor. Quinton Ganther ran for 122 yards on eleven carries and Smith completed 16 of 24 for 184 yards and a touchdown.
A few fans tossed tortillas and some of the Utes donned sombreros in reference to the Fiesta Bowl, where they're most likely headed. Fans spent the final minute of the game lining the sideline and started pouring onto the field with about 15 seconds left to play. It took a few minutes, but both goalposts eventually came down as Utes fans reveled in the perfect season.
Utah won't officially know if it's going to a B-C-S game until the final standings come out December fifth. The Utes need to be in the top six to guarantee a B-C-S spot and should hang on to the sixth position they held last week unless something strange happens with the computers.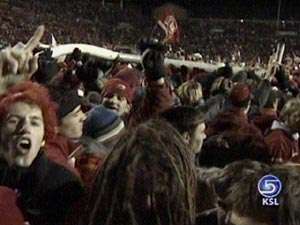 If it wasn't a lock before, Michigan's loss to Ohio State earlier Saturday made it closer to one for the Utes. The Wolverines were one spot behind Utah in the B-C-S standings and nobody else was close.
John Beck completed 17 of 32 passes for 213 yards and two touchdowns to lead B-Y-U, which has had three consecutive losing seasons for the first time since 1964.
The last six games in the rivalry had been decided by a touchdown or less, including Utah's three-to-zero a year ago. This one turned into a rout, but not until late in the game.
The Cougars answered the Utes first two touchdowns with their own scores, never falling behind by more than seven until the third quarter. But B-Y-U couldn't recover from a lethal turnover in the third quarter that led to Savoy's scamper down the sideline and crushed the Cougars.
B-Y-U's Spencer White had just intercepted a pass from Smith that set the Cougars up at the Utah 45, down just 31-to-21. But when B-Y-U got creative on first down, Utah's Eric Weddle stepped in front of receiver Austin Collie's pass and intercepted it at the eight.
On the next play, Smith pitched the ball to Savoy and the Ute receiver shuffled his feet through the defense, then bolted down the B-Y-U sideline for a score that put Utah up 38-to-21.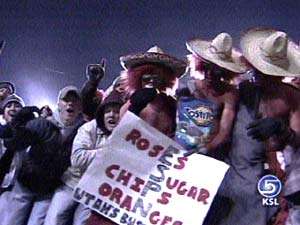 Savoy caught a 20-yard pass from Smith in the fourth quarter to seal it and defensive lineman Steve Fafita took a handoff four yards for a touchdown with 1:03 remaining.
Bo Nagahi returned a fumble 12 yards for a touchdown and ran 23-yards on a fake punt to set up another score for the Utes, who were three-for-four on fourth-down conversions. Savoy ran in an option for the first score of the game with 52 seconds left in the first quarter.
Marty Johnson added a five-yard touchdown run for Utah, but after Nathan Soelberg intercepted a pass from Smith and returned it to the Utah 24-yard line, Brown scored on a six-yard run to tie it at 14.
Smith nearly threw another pick the next time Utah had the ball, but Aaron Francisco dropped it. That was costly for B-Y-U after Nagahi ran 23 yards on a fake punt to set up Smith's two-yard touchdown run on a broken play to give Utah a 21-to-14 halftime lead.
(Copyright 2004 by The Associated Press. All Rights Reserved.)
×