Estimated read time: 4-5 minutes
This archived news story is available only for your personal, non-commercial use. Information in the story may be outdated or superseded by additional information. Reading or replaying the story in its archived form does not constitute a republication of the story.
SALT LAKE CITY (AP) -- Twenty years after he put it on for the first time as a rookie, John Stockton watched the Utah Jazz retire his No. 12 Monday night.
Stockton and his children pulled the chord that unveiled the giant No. 12 next to Jeff Hornacek's No. 14, which was retired two years ago early in what would be Stockton's final season.
Dozens of friends, including former teammates Karl Malone, Mark Eaton and Adrian Dantley, and family joined Stockton on the court for the halftime celebration during Utah's home game against
New Orleans. Stockton had to wait for a long ovation to die down before he could address the packed arena.
"I want you all to take pride in it because you all had something to do with it," Stockton told the fans. "I felt welcome every day I played out here. This is home."
Stockton retired two days after the 2002-03 season ended with a first-round playoff loss to Sacramento. He had to reluctantly return to the limelight, which he steadfastly avoided through most of his 19 seasons, but remained modest as the Jazz gave him the organization's highest honor, crediting the teammates and coaches he's had throughout his career.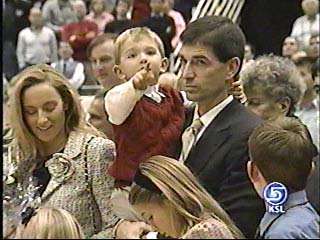 "You don't do the things that I'm getting credit for without teammates, terrific coaches, terrific organization, fans that come and support you. All of those things," Stockton said during a pregame news conference. "To put it up there for myself just is wrong."
Stockton and his family sat courtside for the game, which included video clips of former NBA coaches and opponents who recalled what it was like to play against the league's all-time leader in assists and steals.
Stockton looked a little out of place in a dark suit on a basketball court. He sat courtside next to his daughter and watched on the bigscreen monitor during a "John Stockton Trivia" time out.
Plenty of players and coaches from his past were on hand to welcome Stockton from his native Spokane, Wash., where he's been living since his retirement.
Frank Layden, Utah's coach when Stockton was drafted in 1984, admitted that he had to be talked in to using the 16th overall pick on the kid from Gonzaga. He also credited Stockton with helping turn around a struggling franchise in a small market and keeping it here.
"We started to move toward being a championship team when we picked up John Stockton. He became the catalyst to what this organization was going to be about for many years to come," Layden said.
Jerry Sloan, who took over for Layden 17 years ago and has held he job ever since, choked up with emotion as he thanked Stockton.
"He set a terrific standard here with this organization. With his attitude, with his approach to practice. Every single day," Sloan said, "he was going to be the best he could be."
Stockton's number is the sixth to be retired, putting him in the rafters with Pete Maravich (7), Darrell Griffith (35), Eaton (53) and Hornacek. A No. 32 is sure to be lifted when Malone retires.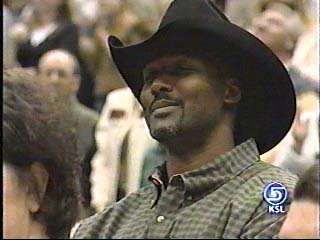 Malone is recovering from knee surgery and watched the game from a suite overlooking the court. He declined to talk to reporters, saying it was Stockton's night. He did receive one of the loudest rounds of applause when he waived to the crowd during the halftime ceremony.
Stockton played his entire career -- 1,504 out of a possible 1,526 games -- for the Jazz and finished with 19,711 points, 15,806 assists and 3,265 steals. He holds NBA records for most assists in a season (1,164 in 1990-91) and average per game in a season (14.5 in 1989-90).
Stockton said fear of being cut was a huge motivator in the early years.
"Doubt has been a huge part of my basketball career for sure," he said. "I guess I always felt I could compete with anybody, but I didn't think anybody else would agree with me."
Layden showed that his long layoff from coaching hasn't dulled his sense of humor. He's every bit as sharp as he was 20 years ago when Stockton was a rookie on the Jazz bench.
"It's all certainly well deserved. I know you're embarrassed by it all, but you know greatness has its responsibilities, too," Layden said. "And thanks for making us all rich."
(Copyright 2004 by The Associated Press. All Rights Reserved.)
×