Estimated read time: 2-3 minutes
This archived news story is available only for your personal, non-commercial use. Information in the story may be outdated or superseded by additional information. Reading or replaying the story in its archived form does not constitute a republication of the story.
John Daley ReportingThe future of Sandy's last large undeveloped parcel of land hangs in the balance -- should the old gravel pit be the home of a new Wal-Mart? Citizens and public officials in Sandy are gearing up for a momentous decision.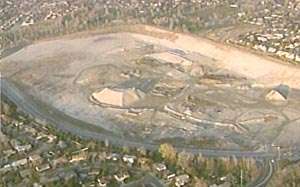 Tomorrow the city council votes whether or not to make a zoning change, which would pave the way for big box retailers, specifically a Wal-Mart and a Lowe's.
When the Salt Lake Wal-Mart went in there was no big debate, it was on old industrial site near the interstate. But by many accounts Sandy has never wrestled with an issue as divisive as this battle of green space versus greenbacks.
In Utah's latest dramatic David versus Goliath showdown over open space a gravel pit is the setting. The question, should it become park-space or mix-use development, or big-box retail with a 200,000 square foot Wal-Mart.
Opponents have organized a grass-roots campaign called Save Our Communities to stop the change, using posters and a full-page ad in the newspaper.
They say big-box retail will bring air and noise pollution and crime, and will be bad for residents and small business.
Rachael Stone, Save Our Communities: "You can't create open space later, you know. You've got to protect the stuff that's left. And there's not much left."
Roy Ostendorf, Save Our Communities: "The backbone of America is small businesses, mom and pop shops. And Wal-Mart comes in and just plows them over, if you will."
But the new retailers could generate annual sales taxes of $750,000. A smaller Wal-Mart is leaving Sandy for South Jordan. Without this development the city could be without that tax money.
Wade Williams, The Boyer Company: "There's not many sites of this size left on the east side of the city or on the east side of the Salt Lake Valley. And so we think it's a natural location because of that."
Boyer, the developer, has lobbied hard for the project and has long supported Mayor Tom Dolan, contributing $10,000 dollars to his 2001 reelection.
Wade Williams, The Boyer Company: "I think you should support the candidates which are sympathetic to your causes and that's part of the process in our country."
The Mayor has not revealed which side of the issue he's on, but issued a statement saying, "I trust the process," adding he's certain the public process will result in the right decision for the city.
Virtually all sides agree the stakes here couldn't be higher.
Dennis Tenney, Sandy City Councilor: "This is the crown jewel of the last large open space in our entire city."
Representatives for Wal-Mart did not return our calls today.
The meeting happens Tuesday at 7 p.m. at the Sandy City Hall. Many are predicting a close vote.
Opponents say if they lose they may try to take the issue directly to the voters, via a referendum.
×
Most recent Utah stories