Estimated read time: Less than a minute
This archived news story is available only for your personal, non-commercial use. Information in the story may be outdated or superseded by additional information. Reading or replaying the story in its archived form does not constitute a republication of the story.
(KSL News) -- Experts are still trying to figure out what caused an explosion at Thatcher Chemical in Salt Lake City.
Last night a tanker was off-loading a chemical at one of the buildings on site... when an explosion caused about 10-thousand gallons of the chemical to spill.
The chemical is sodium thiocarbonate, a base chemical, and is not explosive on its own.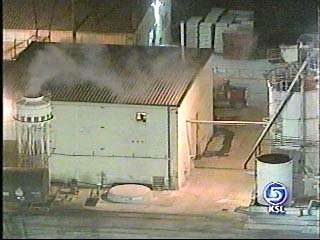 Crews were able to contain the chemical spill. And no one was injured.
Scott Freitag, Salt Lake City Police Dept. "We have no residents in this particular area so the threat to the community we believe is very low. There is no fire.. Going on.. No chemical reactions going on so at this time. Its a containment and investigation to determine what caused the explosion."
Authorities think mounting pressure in the tanker may have caused the explosion.
×