Estimated read time: 2-3 minutes
This archived news story is available only for your personal, non-commercial use. Information in the story may be outdated or superseded by additional information. Reading or replaying the story in its archived form does not constitute a republication of the story.
John Hollenhorst ReportingA deal signed today should fix a safety hazard in Utah County that has already claimed more than a dozen lives. And it's expected to bring financial benefits to much of the Wasatch Front.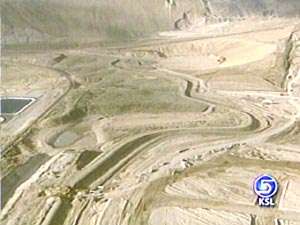 The deal transfers ownership of water facilities including the Provo Reservoir Canal. Often called the Murdock Canal, it's swallowed up a lot of lives, mostly of young children. And now something should get done about it.
The canal is a victim of it's own success. By bringing water from the Provo River across Northern Utah County it helped the area grow. Now growth will likely force its replacement.
John Carman, Salt Lake & Sandy Metro Water: "Just 20 years ago the majority of the canal was built in open fields, and well away from developed communities."
Now homes are almost right on top of the canal, definitely close on both sides. At least 14 people, mostly children, have drowned in it. After decades of federal ownership there's little fencing to keep kids out.
John Keys, U.S. Commissioner of Reclamation: "We're a changing society. When this canal was built there was nobody living along the canal. And there was really no need for it. Did we keep up with it? You could make arguments on that whether it was or not."
One of the more dramatic deaths was at the point of the mountain about five years ago. A hang-glider fell into the canal and was sucked down to his doom.
Today water officials got together to transfer ownership from federal to local water districts, a first step to replacing the canal.
Rep. Chris Cannon, (R): "And someone said 22 people have drowned in the canal over time. That's a lot of people. We know families that have had those tragedies."
The replacement will be an underground pipe or culvert. The cost is about 100 million dollars, but local ownership makes it cheaper to finance. Instead of a canal, residents will eventually see a 22 mile corridor of trails and green space.
John Carman, Salt Lake & Sandy Metro Water: "Effectively a linear park. It has the potential to be that."
The ownership change was approved by Congress and signed by the President. The deal also includes the Salt Lake Aqueduct, which runs from Deer Creek Reservoir to Salt Lake City. That's already underground and out of sight.
×