Estimated read time: 2-3 minutes
This archived news story is available only for your personal, non-commercial use. Information in the story may be outdated or superseded by additional information. Reading or replaying the story in its archived form does not constitute a republication of the story.
Shelley Osterloh ReportingA new neighborhood is springing up in the southwestern part of the valley. It blends a feel for the past with sensibilities for the future. Daybreak may set a new example for growth on the Wasatch Front.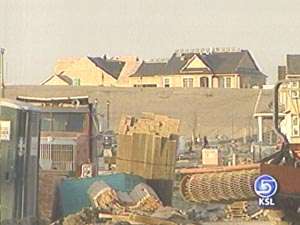 Kort Utley, Daybreak: "The scale of the development will be bigger than anything Utah has seen before."
Actually Daybreak is in South Jordan City, but it will eventually boast all of the conveniences of a self-contained town--schools, shopping, entertainment, places of worship, and open lands for hiking.
The Kennecott property was a buffer for its mining operations, now it's a business opportunity. Corbin and Annika Hoenes are the very first residents of the development, moving in with their children Jaden and Maelyn.
Corbin Hoenes, Homeowner: "Daybreak was a good fit for us because the style of the home. A lot of the classic features they have in the homes they're offering down here. Different than any of the other developments we've seen."
They like the architecture, colors and materials, traditional styles. And the school and community center are right down the street.
Annika Hoenes, Homeowner: "We're getting a pretty big home in a really nice area. So, we felt like we got a really good deal, especially with being the first ones here."
Daybreak follows growth strategies encouraged by long-range planners.
Kort Utley, Daybreak: "We're drawing inspiration on the architecture from classic Utah neighborhoods like Sugarhouse, Harvard/Yale and the Avenues."
Daybreak has sold 200 homes and 20 families will live there by the end of the year. Take a look at the scope of the development, a substantial chunk of the valley two miles by four miles. Kennecott will develop more than four-thousand acres, one thousand acres will be preserved as open space.
Corbin Hoenes, Homeowner: "Somewhere you can really enjoy living, and stay around the neighborhood. You won't have to travel too far to enjoy yourself."
South Jordan is booming, adding more than 10,000 residents in the last four years. Daybreak will add nearly 14,000 more over the next decade, increasing the city's population by a third.
Townhomes start at $130,000. Custom homes come in at about a half million. Transportation though, will be a struggle. The Mid-Jordan Trax line, when it is built, will end at Daybreak. The Mountainview Highway, when it is built, may also border the development.
×
Most recent Utah stories