Estimated read time: 2-3 minutes
This archived news story is available only for your personal, non-commercial use. Information in the story may be outdated or superseded by additional information. Reading or replaying the story in its archived form does not constitute a republication of the story.
John Hollenhorst ReportingWe're entering the busiest movie weekend of the year, so it's a good time to tell you something you probably didn't know about theater owner Larry Miller. His theaters seem to be setting a national trend and it's partly because he knew so little about theaters when he started.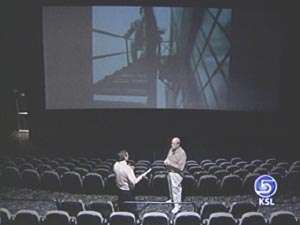 When Larry Miller started designing his Jordan Commons Theaters he knew little about the business. He ignored industry consultants and went his own way.
Larry Miller, Theater Owner: "We would simply say, 'What would we want our family and friends to experience if we took them to a movie?'"
A big issue was how to accommodate the needs of people like Steve Mikita. He's a huge movie fan.
Steve Mikita: "And merely because I'm in a wheelchair doesn't make me any less entitled to the pleasures and privileges of any other theater goer."
In most theaters with stadium seating, the people in wheelchairs are stuck at the bottom, in the front of the theater. And they have to crane their necks to watch the movie.
Steve Mikita: "Which puts a tremendous strain on your neck, back and eyes."
Miller's brainstorm was to bring the entry ramps in at the mid-level, instead of the bottom. And he left a wide horizontal aisle-way with lots of space, especially designed for wheelchairs.
Larry Miller, Theater Owner: "And arguably, they're in the best seats in the house."
The movie industry was skeptical. It raised construction costs. It left too much open space.
Larry Miller: "The conventional wisdom at that time was, it's a waste of money, why do it?"
But now many other theater owners may be wishing they'd paid attention to Miller. The Justice Department filed suit against the Cinemark chain for violating the American's With Disabilities Act. In an out of court settlement Cinemark agreed to provide a mid-level entry for wheelchairs. It's pretty much what the industry considered wrong, when Larry Miller did it.
That makes Larry Miller a national trend-setter. Until we called him today, he never even knew there was such a lawsuit.
×