Estimated read time: 2-3 minutes
This archived news story is available only for your personal, non-commercial use. Information in the story may be outdated or superseded by additional information. Reading or replaying the story in its archived form does not constitute a republication of the story.
Coco Warner ReportingJust in time for Christmas the Humane Society is easing up on some of their past pet adoption rules. But just who will benefit from the changes?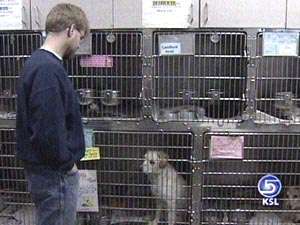 Amber Bourne, Adopting Puppy: "We've been wanting a dog for awhile, so we're getting a dog at the pound because it's a lot less money, and we really like this one."
What's not to like? This Utah Family is hoping to make this little puppy the newest member of their family. And judging by the crowd at the Humane Society today, spending the day after Thanksgiving looking for a pet may soon become a holiday tradition-- something the Humane Society is thankful for.
Gene Baierschmidt, Humane Society: "We adopt out 80 to 90 percent of the animals that we have here at the Humane Society and so we're trying to close the gap of those one thousand or so that we still have to euthanize that are very healthy and adoptable."
To make it easier for people to adopt a pet the Humane Society has relaxed some of their requirements. A few examples: certain dogs will now be adopted to outdoor environments. Cats will be adopted to people who intend to have them de-clawed. And animals will be adopted to renters without prior written landlord permission.
Gene Baierschmidt: "We look at every case on an individual basis, so it's really important that people realize that when they come down to adopt an animal from us."
Even though the Humane Society has eased up on some of the restrictions, they still warn against holiday impulse buys. They want to make sure this year's Christmas puppy is around for the next several Christmases.
Temma Martin is with Salt Lake's County Animal Services and she says the County comes with a different, and some might say more strict perspective about placing pets.
Temma Martin, S.L. County Animal Services: "Not only do we want to place as many pets as we can in your homes, but we want them to be permanent homes, and we want them to not cause any problems in the community that we will later be called out to deal with."
×
Most recent Utah stories