Estimated read time: 3-4 minutes
This archived news story is available only for your personal, non-commercial use. Information in the story may be outdated or superseded by additional information. Reading or replaying the story in its archived form does not constitute a republication of the story.
Carole Mikita reporting Florida's hurricane season was the worst in that state's history. Four devastating storms in about six weeks.
As is often the case, disaster brought out the best in people.
Hurricane Charley slammed into eastern Florida on Friday, August 13th. The hardest hit city was Kissimmee. Three weeks later, Frances swept across the state, hitting the same area again.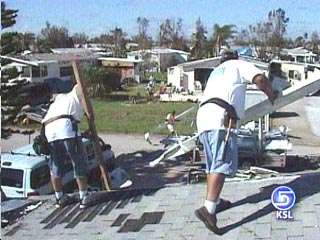 First the shock, then the response from people of all walks of life, all faiths, including the well-organized Latter-day Saints.
A thriving floral business was one of many businesses decimated. Just a day later, Allen Smith's biggest competitor called him.
Allen Smith, Kissimmee florist "They immediately called us and said, well, come on over and work in our place...they made some room for us and we were able to immediately start up operations and service our customers..."
The hurricane brought trouble in threes to the Fuimaono family. It blew the roof off their house off, then a generator exploded, burning the back of the home. They also discovered their health food store was minus a wall and flooded. But help came.
Pauline Fuimanon, health food store owner: "Neighbors helping everybody, people bringing in food, we bring food, just working together...doesn't even matter what church... "
Latter-day Saints received help and gave it. They were busy in teams cleaning debris and moving downed trees in a city cemetery, all 40 acres of it.
Tim Callaghan, Parks Dept. foreman: "They were just awesome...amazing what they did .... They brought, I think 30 people in here and they just didn't even want to stop..."
Food and supplies didn't stop coming either. A bishop's storehouse in Orlando was replenished continually by donations from Salt Lake. The warehouse was emptied five times in as many weeks. That means 37 semis left here each carrying 38-thousand pounds of food or supplies.
One of those trucks came to a trailer park where Griselda Mora decided she was going to take care of all of her neighbors. She and her husband put food packets together for 200 families.
Griselda Mora, Jupiter 2nd Branch Relief Society Pres. "They went trailer to trailer, distributing the packets according to how many people were in each trailer..."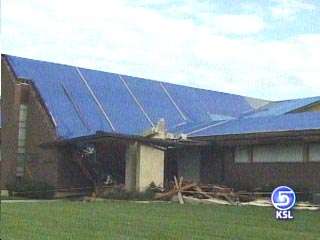 Those neighbors then helped repair the roof of her Latter-day Saint chapel.
Another one of those trailers came to Indiantown, where migrant farmworkers live, and where there is a school for their children.
Sister Teresa Auad, Dominican nun: "I never expected when they tell me Utah, for me, it's like saying the moon... But help has come, you know? Especially the way those people came in the truck and help us..."
Also from Salt Lake, came a message of gratitude for church members who had left their own damaged homes and businesses to help others. Their relief efforts changed lives.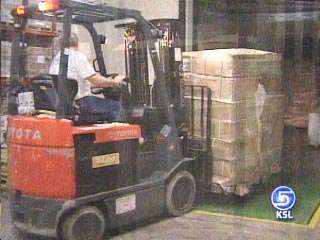 Bishop H. David Burton, The Church of Jesus Christ of Latter-day Saints "The miracle really comes in terms of what and how the people have reacted...and how they have come together, not only in their families, not only in their quorums and in their wards but in the greater community..."
Many Floridians are still recovering from those hurricanes. So many we talked with, are grateful for the massive community effort -- everyone pulling together to help each other.
×
Most recent Utah stories